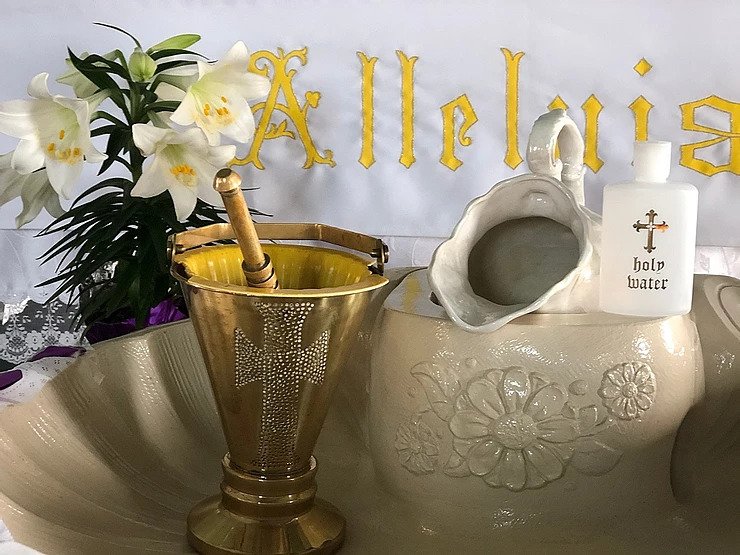 Oops! NO HOLY WATER. Churches have emptied the holy water fonts to curb the spread of coronavirus. Moreover, with the restriction to attend worship services, you will have to wait to get the newly blessed holy water at the Easter Vigil service.
Holy water doesn't have an expiry date. Are you surprised? And, even you can say a blessing to create holy water. I suggest twelve ways you can holy water at your home. The saints knew the hidden power of holy water, that ordinary folk takes for granted.
Yes, you can use holy water in everyday life. People sprinkle themselves with holy water every morning they wake up, and before going to bed – some even "spray it." People bless themselves with holy water when they leave the house and return. It's more than popular piety—it's the comfort, protection, and trust. Sprinkling with holy water acts as a spiritual weapon to ward off evil and experience the joy of the children of God.
These are twelve ways you can use holy water in your life.
Bless yourself.

Bless your home.

Bless your family.

Bless your friends.

Bless the sick.

Bless even a non-believer.

Bless your workspace.

Bless your vehicles.

Bless your garden.

Bless gadgets.

Bless sacred objects.

Bless your pets.
In the absence of a priest, even you can bless the holy water. Although in normal circumstances, holy water is blessed by a bishop or a priest – in a solemn way at Easter service, occasionally on Sundays and rarely in private.
We miss holy water – to bless ourselves or to be blessed by a priest.
In an automatic gesture, devotees dip their fingers in the font at the narthex, motioning the fingers, immersed in water, to the forehead, and across the breast with the sign of the Cross. The moment the faithful connects to the divine substance, they acquire the hidden power that lies in the little water.
It is a symbolism that reminds us of baptism, purification, and entry into a sacred place. We were baptized by pouring water three times – saying the very same words: In the name of the Father and of the Son and the Holy Spirit. It is reconnecting to the foundational experience as children of God. As sacramental, holy water cleanses us, prepares us for worship – purifying us from sin. The signing with holy water at the enters the church serves as a reminder that we are entering a sacred space – leaving behind the ordinary and seeking spiritual refreshment – quietening the hustle and bustle to enter into God's presence.
The book of Genesis reveals a mysterious relationship of water to creation – as the spirit hovers over the waters.
The hidden power of holy water includes healing, exorcism, empowerment, and sanctification. Holy water banishes evil – free us from the power of the evil one.
Believers use holy water for a sacred purpose, not hygiene. It may not be gem-free. Holy water has an element of purity – symbolic and ceremonial – it heals, sustains life, and gathers a community for worship.
How is holy water made? I remember a joke, "beat the hell out of it."
The priest adds a dash of salt to natural water and says a blessing, according to the rubric.
In other words: natural becomes supernatural. Water from the natural source with a pinch of salt is exponentially transformed with the sacred words of a priest.
Write it mathematically,
You can say these prayers while blessing yourself with Holy Water.
Most people make the sign of the Cross upon touching the holy water, saying, "In the name of the Father, and of the Son and the Holy Spirit. Amen.
Some people say, "By this holy water and by Your Precious Blood, wash away all my sins, O Lord. Amen." Or "Lord, cleanse me and purify me so that I can worship you and receive you worthily.
An optional prayer is Psalm 51: Sprinkle me, O Lord, with hyssop, and I shall be cleansed; wash me, and I shall be made whiter than the snow. Create in me a clean heart, O God, and renew a right spirit within me.
There is also another one I learned from my grandmother: As the holy water strikes me, let Satan flee, and I may meet Jesus.
Here a prayer from St. Teresa of Avila,
"From long experience, I have discovered that there is nothing like holy water to put devils to flight and prevent them from returning again. They also flee from the Cross, but return; so holy water must have great virtue. For my own part, whenever I take it, my soul feels a particular and most notable consolation."
The sole purpose of holy water is to glorify God with our lives.
Something for you …
Need funny and thought-provoking stories about priests, buy on amazon The Uncommon Priest: Incredible Stories You Never Read
Check out my spiritual videos on YouTube: Feroz Fernandes
ferozfernandes.com is a participant in the Amazon Services LLC Associates Program, an affiliate advertising program designed to provide a means for sites to earn advertising fees by advertising and linking to Amazon.com.