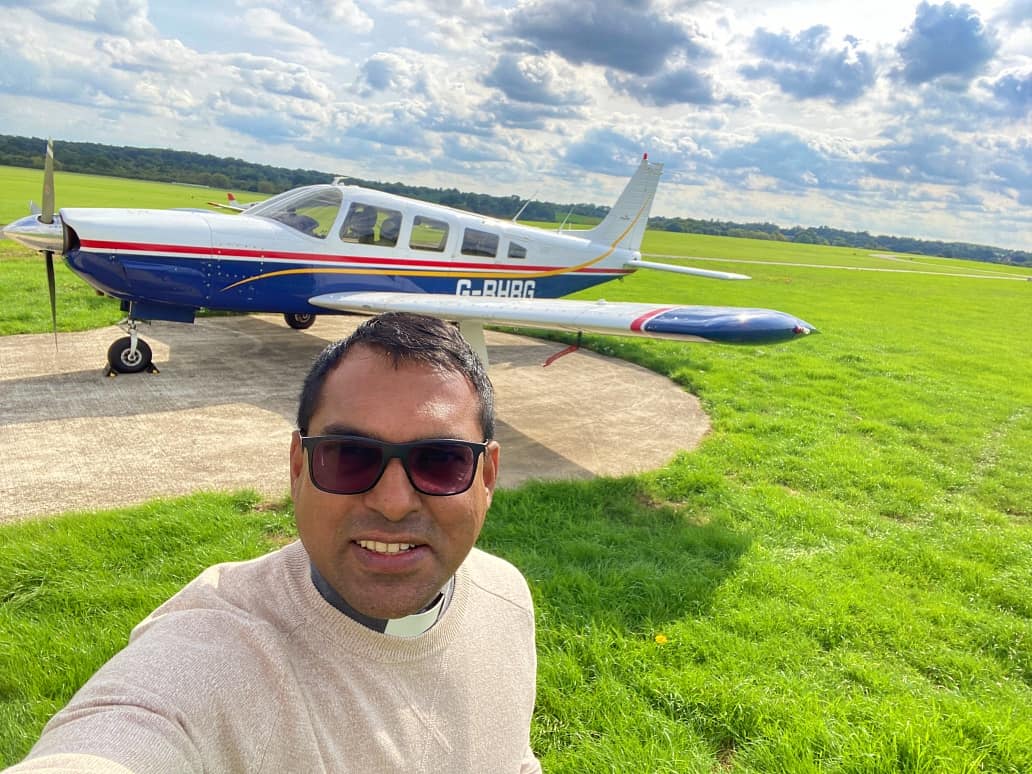 "When was the last time you did something for the first time," a friend asked me. It took me a while to get it correctly. But I had to get it right while flying a plane for the first time.
I took over the plane's controls for over 30 minutes from Redhill Aerodrome to Headcorn Aerodrome, London. The take-off was closer to Gatwick airport, the other air hub after Heathrow for London. I was in the pilot's seat with Mark Wagner, the training instructor with 40 years of flying experience.
It was a four-seater private plane (G-BWOH) with wings below the aircraft's body. Father Patrick D'Souza, SFX, the Goan Chaplain, was in the passenger seat.
Mark started to run the mandatory check before we took off. The aircraft has two fuel tanks on either wing with enough fuel for four hours each. When the fuel tank is full, it is advisable to take less than four people.
"With this amount of fuel, we can fly to Paris and come back," Mark said. "Yeah, we have a bit of paperwork to do."
The scary part of flying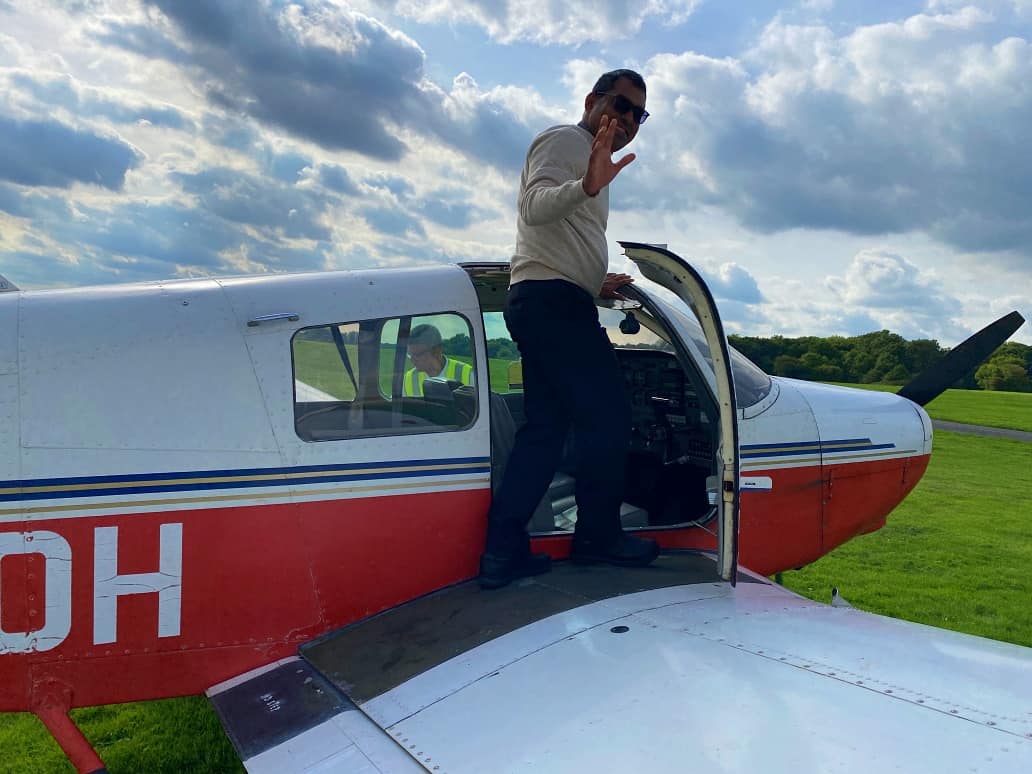 First-time flying can be overwhelming. Mark had much experience. "She was flown in the morning, so we know the plane is in working condition," Mark said to boost our confidence.
I was getting ready to take air control of the plane: a once-in-a-lifetime experience.
We had to sign the declaration form to undertake the risk for life and no subsequent claims after that, in case of an eventuality of loss of life while on board.
As we were signing the form, we could hear the office staff talking about a technical issue with one of the aircraft.
"You are signing your life away," said Alvaro D'Costa, the Manager of Redhill Aviation Flight Centre. Our friend Alvaro, a lover of aeronautical adventures, is a devout believer in the intervention of God in life.
Was Alvaro joking?  The little things always seem big, adding to my fear of flying. A scheduled flight got cancelled, and Mark was free for the evening. Alvaro and Mark agreed on our itinerary while in the air.
Mark requested a PPR (Prior Permission Required) for take-off. The airfield had more traffic than usual. It is a grass airfield for take-off and landing. An alternative runway is used for safety purposes when it is raining or wet.
After a while in the air, my right hand became rigid while holding the plane's controls. It was a numbness I had not experienced in recent times. But I flipped the wings for a better view of the ground and changed the direction of the plane's nose to gain height or start a descent.  I had the assurance that the co-pilot would take over. Mark was impressive as he spoke about flying technical details.
Roughly, we cruised at 1200 feet above sea level with 80 mph on a bright sunny day. There were bursts of air hitting the aircraft occasionally, tilting it like it was on a road full of potholes.
There is a train track below with lush green trees on either side, forming a straight line. Mark told us that before GPS, pilots in cloudy conditions depended on it, looking down at the track to head out towards the English Channel to fly into Europe or land in London.
The Crazy World of Aviation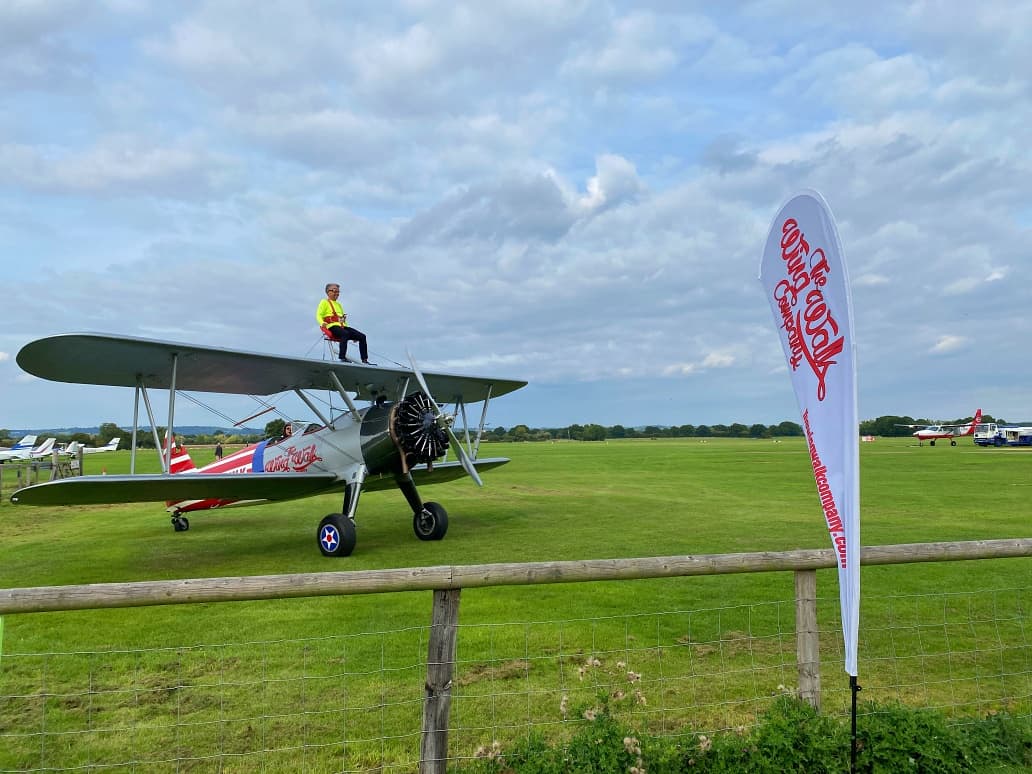 Thanks to Redhill Aerodrome, it has air traffic control with PPR to land and take off. But Headcorn Aerodrome, the place we were above to land, is less controlled – it is an open field. Everyone must watch out for who is around. It is like an unmanned open area.
Mark did talk to a guy at Headcorn Aerodrome, informing them about our landing. He sounded half sleepy, like land at your own risk. But we are open for business. We had to pay landing fees.
"It's a crazy world of aviation," Mark informed us earlier. "People are doing the weirdest things in the flying world."
We were blessed! It was like an ordinary day air show at Headcorn Aerodrome. One fellow was tied to the wings on top of an aircraft – Boeing Stearman. It's called wing walking. They took off after we landed. He wore a pair of glasses to protect his eyes while experiencing the speed, power thrills and spills of ups and downs.
I thought the guy was in his early twenties – out on an adrenaline adventure.  But no, he was in his mid-sixties. The restrictions are on age (18-75) and weight ( below 85 kg). The adventure is approved by Civil Aviation Authority (UK).
"It's cheap, considering the cost of fuel, aircraft and organisers," Mark said. The trip of 20-plus minutes costs £400 (USD 450), with all sorts of twists and turns in the air.
"It's awesome! It would be best if you tried it," he told us while leaving Headcorn Aerodrome. And then the next passenger to wing walk was a lady in her forties. People pay to sit on an aircraft of their choice for a once-in-a-lifetime experience.
Spitfire! Yes. It was there. Spitfire is a WWII aeroplane with the sound you hear in movies. I saw it fly and make that unique noise. I did not go too close, as the owners do not appreciate civilians getting too close to it. You need to be a customer.
Another surprise was to see a plane made of wood. It has a wooden body and wings. Tiger Moth is a British plane with double wings that Royal Air Force first operated in the 1930s.
There was a microlight weighing around 450 kg. It looked like the body was eaten up with only the head remaining for the two-seater plane. A microlight can take off from a backyard of 200 meters.  We saw another one made of fibreglass.
"Things are never boring at Headcorn," Mark confessed. "Blizzard things happen here." Imagine the site with no control, having different objects flying in the air: parachuting, air balloons, sky-dying, and the different types of aeroplanes all looking after one another in a wild west to protect oneself.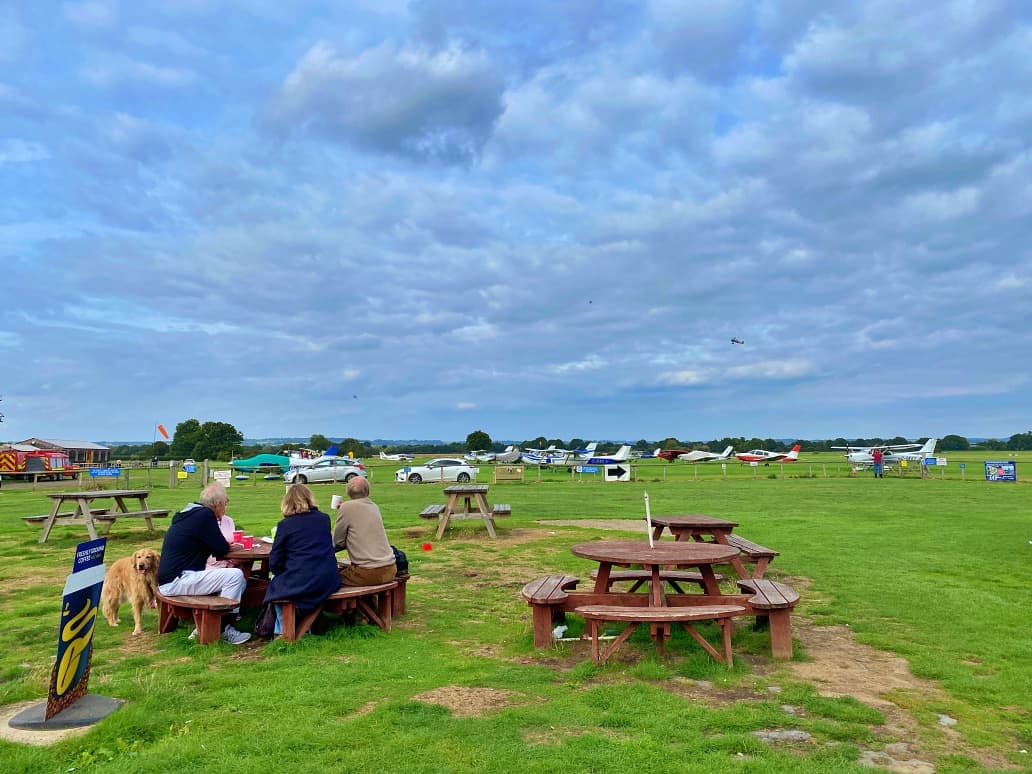 Fr Patrick took over the controls as we returned via another scenic route hovering over three castles, magnificent house vistas and even Winston Churchill's house.
Was I scared to fly? A camera fitted for the window captured the visual of those in the pilot's seat and the aircraft dashboard. It is for post-flying learning lessons, maybe for safety purposes. People can be wired in the air. I do expect a tense face and hands during some moments. I hope to upload it later. Do you want to watch the unedited?
Funny Flashes: Flying, Faith and Food
"Men of God," Alvaro introduced us to his staff. Alvaro advised having no food before flying. It was around 2:30 pm, we had skipped lunch, and it took us almost 90 minutes to get to the Redhill airfield. We did indulge in a hot beverage and a chocolate biscuit, a bit afraid of throwing it out while in the air.
Alvaro shared a testimony of faith.
He took over Redhill flying school in early 2014. It is a wooden structure with another canteen adjacent to it. One night an emergency helicopter was landing at 2 am. He saw smoke and called the ambulance to put out the fire.
When Alvaro came for work in the morning, except for his area, the other part of the building was burnt down to ashes. It was nothing short of a miracle. The emergency services broke open a glass from his shed to prevent the fire.
The ifs and buts can wait. The wind was blowing right onto us. Looking at the site, it could have blown right into the Redhill Aerodrome building. Miracles continue to happen, even wind can blow in your favour.
I felt goosebumps – a sheer presence of Divine listening to this incident. It took away my fears of flying – I am in the safe hand of God.
We planned Friday as a day to go flying. Patricia, Alvaro's wife, suggested we go on Thursday due to the weather.
"My wife always gets the weather correct," Alvaro said. Rightly, the day we were out, it was beautiful – perfect climate to be outdoors and in the air – we kept the pinhole window open of the aeroplane to breathe the superb air above the clouds.
About the Author
Feroz Fernandes, a Catholic Missionary, identifies himself as an Uncommon Priest. Father Feroz loves adventure in the apostolate. Check out his debut book The Uncommon Priest: Incredible Stories You Never Read on amazon. And also, the YouTube Channel: Feroz Fernandes promotes a better understanding of scripture.