Best is Yet to Come, and the Fall never Stops 
The best part of an unplanned holiday is the people you meet, an abundance of surprises, and dwelling in gratitude. That's what happened when I landed in Pickering, Toronto.
Filipe Menezes accompanied me to Toronto City sightseeing. He draws my attention to the powerful words – the best is yet to come – inscribed on the base of the life-size statue of Ted Rogers. Filipe added, "a vision can change the things around a place."
A cloudy day can take off the glitter of the Rogers statue surrounded by the giant city attractions like the CN Tower, Blue Jay's arena, and the Riley's Canadian Aquarium.
I walked into the St. Michael's Cathedral Basilica, the epicenter of English-speaking Roman Catholics in Canada. I sat in silence, admiring the artistry depicting the sacred.
"Which Lord do you believe in?" a devotee asked. She sat on the front bench facing our Lady of Perpetual Succor altar.
I delayed the answer for almost thirty seconds, keeping my gaze on the lady with a white veil, her prayer materials spread out on the hand-rest of the bench.
"Lord Jesus," I said.
"Did he come in the flesh?" she asked.
"Yes," I quickly confirmed.
She asked me if I am embarrassed to talk about my faith.
"Why should I be?" I settled the conversation.
As she continued to raffle through her prayer beads, I admired the majestic gothic art stained glasses. The basilica remains a witness to the English Gothic Revival style of architecture.
Oh, the sound of the church organ. The organist continued to practice on the keys undisturbed as tourists, pilgrims, and security guards walk in the church. The new church organ replaced the one belonging to the late eighteenth century. It creates wonders in projecting the sound in the nave and the sanctuary. I noticed the difference in tone – horizontal pedals, in addition to the normal vertical ones, creating an effect of intimacy on every worshiper.
Sydney and Celia Dias drove me to the Niagara Falls, the most visited destination in Canada. Although I did see the US side, the Canadian horseshoe view of the Niagara has a charm on the visitor.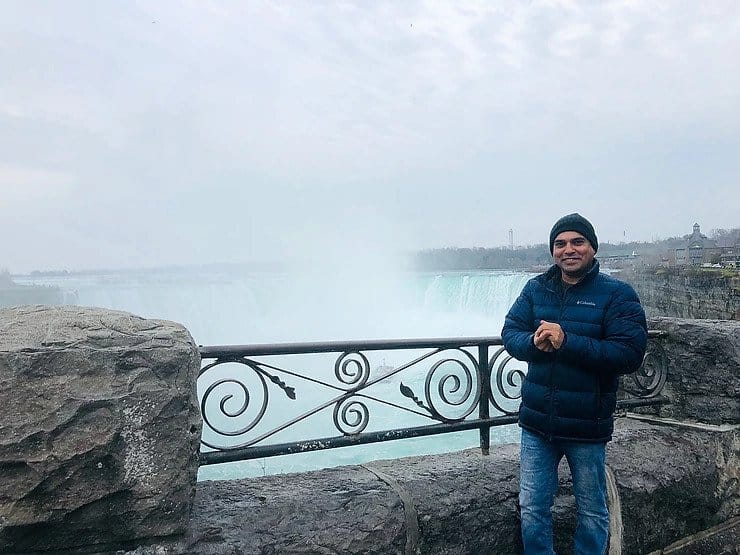 Toronto said, "Best is yet to come." Niagara sounded: Fall never ends.
Something for you …
Need funny and thought-provoking stories about priests, buy on amazon The Uncommon Priest: Incredible Stories You Never Read
Check out my spiritual videos on YouTube: Feroz Fernandes
ferozfernandes.com is a participant in the Amazon Services LLC Associates Program, an affiliate advertising program designed to provide a means for sites to earn advertising fees by advertising and linking to Amazon.com.