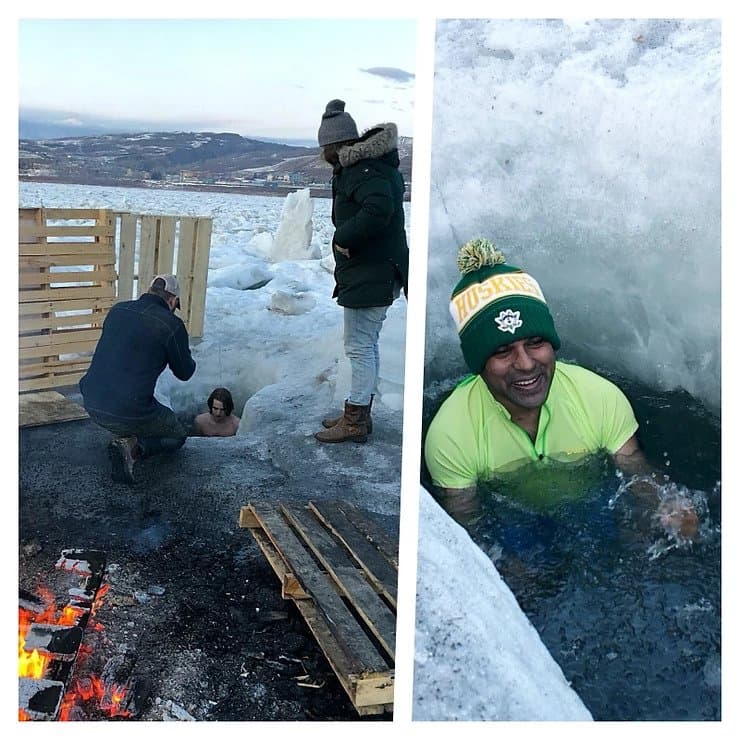 John Earle and his wife watch their son do a polar dip for 6 minutes. In a green t-shirt, my first-time dip for 60 seconds.
The Ice Man of Peace River, John Mark Earle invited me for a polar dip. I was uncomfortable doing it. I would go out and watch, maybe prepare to do it another time.
If you Google, "Polar Bear Dip," you will hesitate to do it. Without quick exposure to warmth, Polar Plunges have the risk of hypothermia. Hypothermia happens when the body loses heat faster than it can produce it, causing a dangerously low body temperature. Although polar bear dips are safe for most people, it can be extremely uncomfortable for some folks.
John Mark is on a mission to do 100 polar bear dips during this Winter. He was on the 86th dip when I met him. What set me on is that John Mark did an ice plunge with -47°Celcius. He showed me the picture: hair frozen. It is freezing.
John Mark confesses that most winters he would hide inside the house. Polar Dip Challenge changed that habit as people in the Peace Country are coming out to try something different. John Mark professes, "If you want to get different results, you need to make different actions."
"I wish hundred people to come out and do the dip," John Mark told me. John Mark's polar dip challenge increased awareness. As of now, John Mark keeps a record; almost thirty people have come out for a dip. Melissa, John Mark's wife, admits that it's time to tell the story of people who do the plunge.
John Mark offers advice that exposure to cold weather is good for humans. He does provide a list like "having a cold shower, wearing less than you normally do, sleep with fewer blankets." John Mark cautions, "It doesn't have to be as extreme" as the jumping in frigid river water.
"The cold is something that can make us uncomfortable,'" John Mark admits. "Being in an environment like the extreme cold is great practice for finding the steady part of you inside that doesn't change."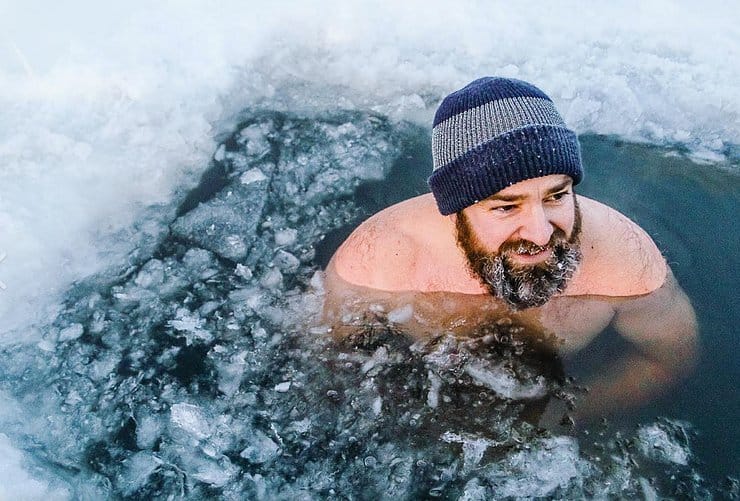 John Mark believes the challenge is for a higher purpose.
"There are so many layers to go through at each step in this process of ice dipping," John Mark acknowledges. He believes in an element of surprise.
I arrive at the Lower West Peace Boat Launch. Fire burning. Three guys are standing near the ice dugout.
The wind blows the fire embers on the bare bodies seeking warmth. Yes, the toes do take a long time to overcome the numbness.
John Mark had not arrived yet. But one of the guys told me to take a deep breath while I go inside the water. Holding my breath, I do the dip.
"The trick is to breathe while you are inside the water," Larry tells me. "And not panic."
I did one for almost a minute. After warming up, I did the second dip after 12 minutes.
"Not 'you must be crazy,' you are crazy," the guy says.
Something for you …
Need funny and thought-provoking stories about priests, buy on amazon The Uncommon Priest: Incredible Stories You Never Read
Check out my spiritual videos on YouTube: Feroz Fernandes
ferozfernandes.com is a participant in the Amazon Services LLC Associates Program, an affiliate advertising program designed to provide a means for sites to earn advertising fees by advertising and linking to Amazon.com.