Pastor Marvin Dueck lead an ecumenical prayer walk on Good Friday beginning at the Caboose, Railway Avenue, Grimshaw, Alberta. The members expressed a happy sentiment: Great to have Easter in late April. "Yes, there are times, we have walked when it is forty below," says Eileen McGuire.
The prayers were directed to pray for operations in the town of Grimshaw: Government and business, community recreations, schools, and health services. Surely, I met up with Pastor Marvin Dueck and Deacon Danielle Mckenzie for the first time.
Pastor Marvin admits that this year the weather is pleasant. "One year, it was so messy with snow," he recalls. "Someone twisted the ankle and had to be rushed to the hospital." The prayer walk began in 2014. "It is a very personal journey for me," Marvin says.
I had a cowboy hat. The wind blew it away three-time. I had to ground it into a truck. They still serve hot chocolate and hot cross buns after the walk. After all, it was a meaningful time Good Friday morning.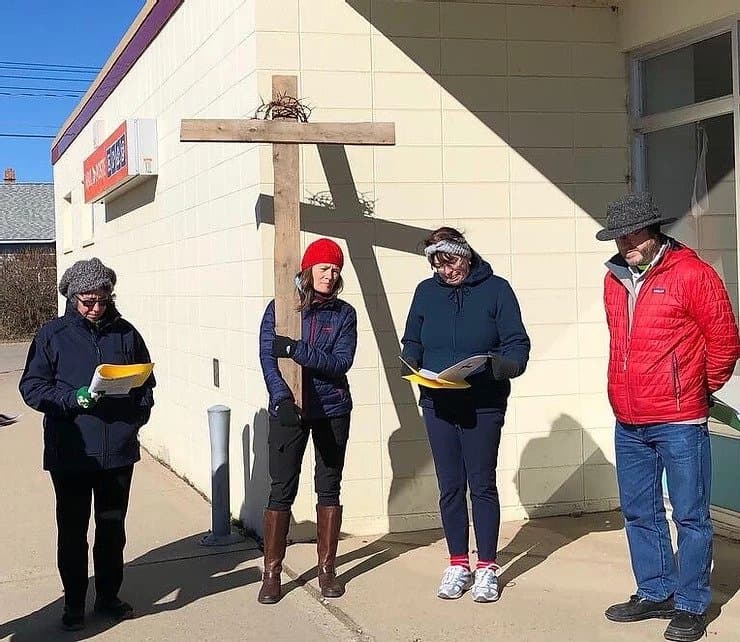 Something for you …
Need funny and thought-provoking stories about priests, buy on amazon The Uncommon Priest: Incredible Stories You Never Read
Check out my spiritual videos on YouTube: Feroz Fernandes
ferozfernandes.com is a participant in the Amazon Services LLC Associates Program, an affiliate advertising program designed to provide a means for sites to earn advertising fees by advertising and linking to Amazon.com.