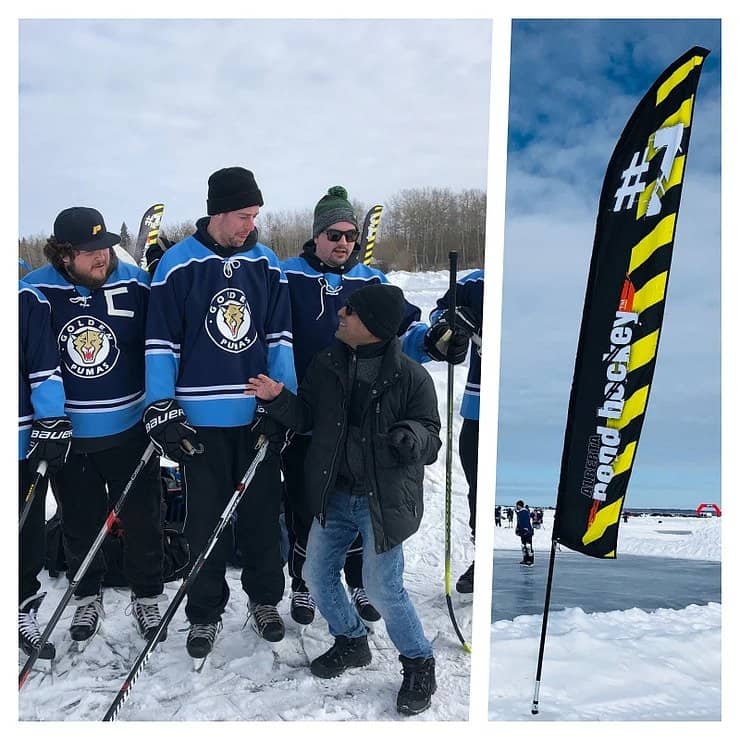 It's a tournament without a referee on the ice rink. The game rule book says, "common sense must prevail." Super interesting rules for Pond Hockey keeps alive the spirit of fun-time during winter.
The Alberta Pond Hockey Championship at Lac (Lake) Cardinal is one of the most significant pond hockey events on earth, with thirty-eight teams competing on thirteen ice rinks. Bill Ruston recalls eighty-seven teams as the highest number of teams ever participated some years ago.
Imagine over a thousand people enjoying a frozen lake. The water body at Lac Cardinal is the size of Bermuda, fifty square kilometers. The ice rinks, food court tents, and entertainment "occupy almost six acres of the lake," says Bill Ruston, a former site manager for Pond Hockey at Lac Cardinal. "It's just one-tenth of the entire lake."
"What about the cracks on the ice," I ask Bill. Bill assures it is of no great concern, as the ice on the lake is three meters.
"The Zamboni will spray hot water on the ice to create a smooth surface and cover the cracks on the rink," Bill tells me.
A loudspeaker announcement – the sound of a horn, not the whistle – commences the games at Lac Cardinal Provincial Park. Eighteen teams begin to play on nine rinks. If a team fails to take to the ice within five minutes, the waiting team is awarded a goal for every minute of the wait time.
Each team has to count their score. Not only that, the winning team is expected the report the score within thirty minutes after finishing the game. Otherwise, the game is treated as a tie for both sides.
"There are competitive, recreational, and family games," Paddy Larson told me. A game is thirty minutes long with a mid-break for five minutes.
Each team comprises of four plays with no goaltender, seventy-two players in action, and a substitute for each side waiting to enter the ice.
"It gives people a reason to come out, enjoy the winter sunshine and have fun," Paddy explains. Tim Horton's cruiser serves free coffee and hot chocolate on the venue.
The results: Sled and the Dogs surprised Northside to claim the 2020 Alberta Pond Hockey trophy. The Other Guys beat the Puck Head for the Consolation Winners.
The sun gives you a feeling that -22°C is warm. Paddy Larson remembers a year the temperature was below negative forty during the pond hockey games.
Something for you …
Need funny and thought-provoking stories about priests, buy on amazon The Uncommon Priest: Incredible Stories You Never Read
Check out my spiritual videos on YouTube: Feroz Fernandes
ferozfernandes.com is a participant in the Amazon Services LLC Associates Program, an affiliate advertising program designed to provide a means for sites to earn advertising fees by advertising and linking to Amazon.com.