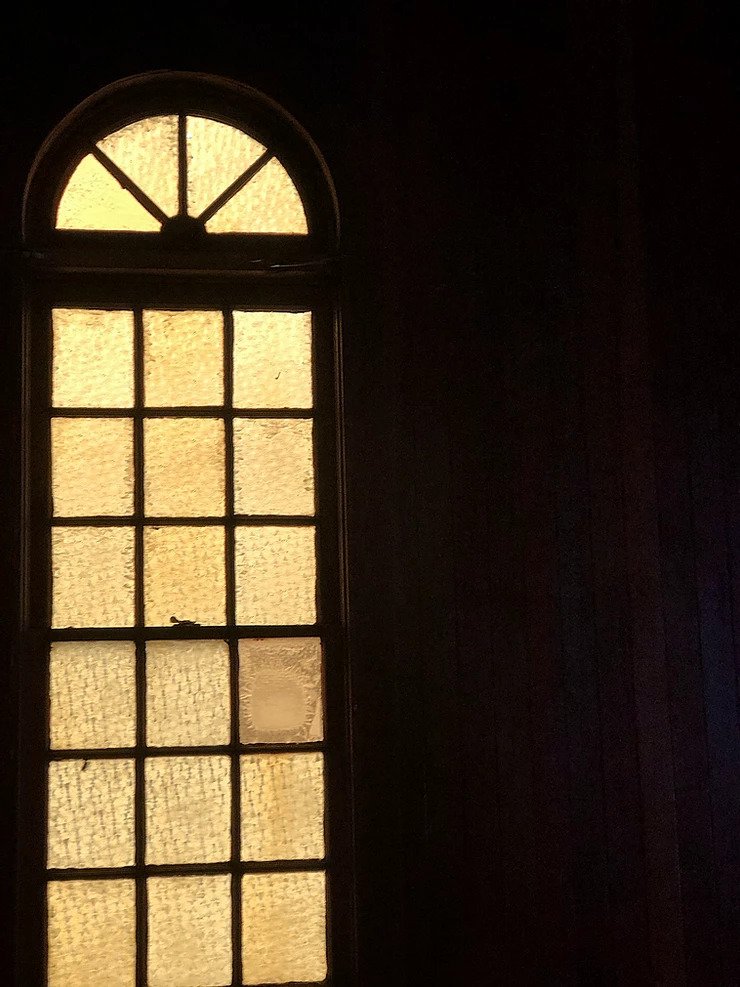 Mary found herself praying in the convent chapel alone in a little corner space. After the night prayers, the other nuns walked into their rooms for a restful sleep. A solemn silence descends in the convent. It looked like any other night.
The moonlight struggled to dodge the dark clouds. A reflection appeared on the chapel stained-glass window. Mary tried to put off the distraction. The glare flashes on the window as if a PowerPoint presentation on the window screen.
"Hey, you, I have seen you here too often," Gab said to Mary.
"You know what," Gab said. "Many times, I am tempted to chat with you at night. But I have orders to keep watch and not to talk."
"What happening?" Mary said aloud.
Gab added, "Hey, hold on! It's real, an angel talking to a mortal."
"What do you mean… real?" Mary demanded to know.
Gab told Mary that God plans a new beginning. "It's going to be different."
"He wants to start with you, Mary," Gab said.
"Wait a minute; this is too confusing," Mary said. "Gab, right… Don't play tricks. It's close to midnight. I am above to hit the bed."
Gab explained that he runs errands for God. Mary hesitates to buy that kind of story.
"Let me give it another try," Gab said. "God wants you to be a virgin mom."
Mary interrupted, "Are you crazy? I am in an abbey. I am committed to a divine calling."
Gab had to reveal details, as Mary was far from easy to accept the message.
"Beth, your cousin, you know is having a hard time to conceive," Gab said.
"The couple tried every fertility treatment available. My next errand is to tell Beth that she is carrying with a special child."
As if challenging, Gab adds, "You can check with Beth."
"One more thing, Beth may need your help processing this news," Gab finished the details.
"Hey! Gab slow down; I need time to digest what you are saying." Mary said.
Gab disappears, as the stained-glass window appears normal again. The silence of the night descended again.
The unanswered questions disturbed Mary. "How could the angel leave without my confirmation?" Mary pondered as her eyes closed for the night sleep.
She remained perplexed the next day. She hoped to talk to Gab at night. But Gab didn't show up. She had to make a choice.
There was no way to get in touch with Beth. Beth and Zac lived deep in the woods, cut off from the internet-driven world, even no landline phones. Moreover, Beth and Zac married for fifty-three years without a child.
The convent policy allows calls only to parents or siblings, once every three months. The convent rules restrained nuns from phoning cousins, relatives, or friends. Often such permissions to call other than your immediate family were never granted.
Besides, Mary had a message that could open emotional trauma for Beth. She was unsure how Beth would react, or even whether Gab was playing foul. Mary battled, as doubt distorted her faith.
Mary waited to meet Gab. But a week passed, with no sign of Gab.
Mary decides to take action. She requests for the permission with Mother Superior Daisy.
"Mother Superior, I want to visit my cousin Beth and spend some days with her."
The request stunned Sister Daisy, as she never expected Mary to ask for something like this.
Sister Daisy stopped Mary explaining any further. "Mary, you know the convent holiday policy – fifteen days once in three years. And you returned from your break five months ago."
Mary tried to explain.
"No, let's stop this conversion here," Sister Daisy said.
"You can reread the convent holiday policy number 14. 3.b and wait for another two and a half years for next holidays." Sister Daisy said.
"I want to do it now," Mary pleaded. She told Sister Daisy what happened while she prayed at night and the conversation with Gab.
"We are done here," Sister Daisy got a bit annoyed. "Don't you ever confuse dreams and visions with reality ever again? It's not healthy for convent sanity."
What will Mary do? Trust Gab version or follow Mother Superior Daisy and the convent policy.
Mary has a plan.
To be continued …
Something for you …
Need funny and thought-provoking stories about priests, buy on amazon The Uncommon Priest: Incredible Stories You Never Read
Check out my spiritual videos on YouTube: Feroz Fernandes
ferozfernandes.com is a participant in the Amazon Services LLC Associates Program, an affiliate advertising program designed to provide a means for sites to earn advertising fees by advertising and linking to Amazon.com.