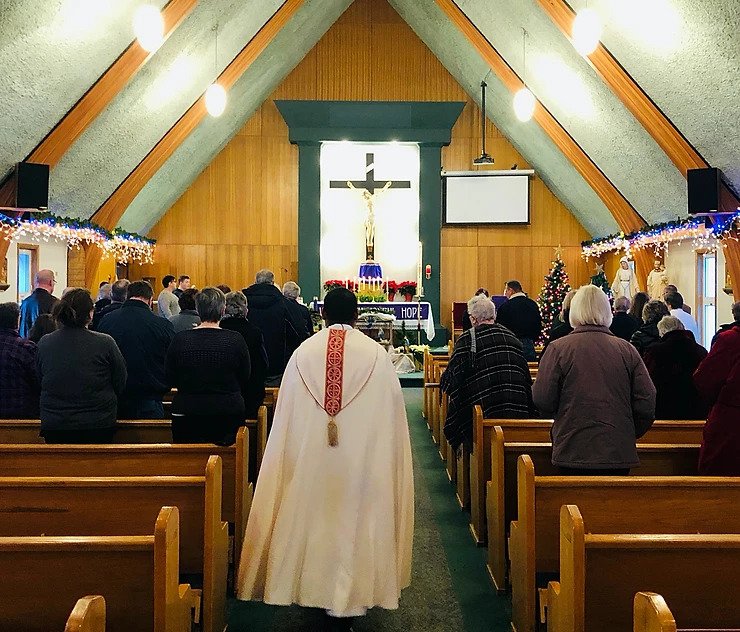 Holy Family Catholic Church, Grimshaw hosted an ecumenical Christmas event titled, A festival of Nine Lessons and Carols on December 20. The nine lessons (readings) proclaim the story of the fall of humanity, the promise of the Messiah and the birth of Jesus interspersed with singing Christmas carols.
With almost Christmas feeling, people joined to listen to the scriptures and singing carols led by Holy Family Choir. Due to the pandemic, the ecumenical event was online. Last year, we have people from other Churches in Grimshaw and Berwyn.
I feel like a lazy blogger, just updating last year's post. The above is a file photo of December 2019.
The festival of nine lessons and carols, regarded as the most famous carol service, is popularly celebrated around Christmas eve following the tradition of King's College in Cambridge, UK.
Please don't take it for granted; Carols became part of Christian worship almost at the beginning of the twentieth century. Before that, singers visited people's houses singing carols around Christmas time. That means carols were regarded as secular in content, exclude from Christian worship.
Edward White Benson, Bishop of Truro, inaugurated the first festival of nine lessons and carols on December 24, 1880. It is said that Reverend Benson, concerned about the excessive consumption of alcohol in Cornish pubs during the festive season, offered an opportunity for revelers to walk out of the pubs into the church for a religious celebration of Christmas. In 1883, when Benson was appointed the Archbishop of Canterbury, the nine lessons service gained popularity across the church of England.
Something wonderful happened last year. After the service, we were having fellowship in the church hall. Dorothy Marlone suggested why not all the churches get together and start a food bank for Grimshaw and Berwyn. The idea kicked off, people supported it with monetary and food donations. It was providential, the food back is doing wonders during the pandemic to reach out to the needy. Good things always happen when people come together and express concern for others.
Food Bank in Grimshaw is open on Mondays and Wednesdays.
Something for you …
Need funny and thought-provoking stories about priests, buy on amazon The Uncommon Priest: Incredible Stories You Never Read
Check out my spiritual videos on YouTube: Feroz Fernandes
ferozfernandes.com is a participant in the Amazon Services LLC Associates Program, an affiliate advertising program designed to provide a means for sites to earn advertising fees by advertising and linking to Amazon.com.