Bill Mitchell delightedly introduced me to Saskatoons (superfood berries) native to North America. Come mid-summer, nature provides a bountiful of saskatoon berries everywhere from Alaska across most of western Canada and the northwestern United States. Just find these berries on shrubs along the roadside or anywhere buttressing the bushes.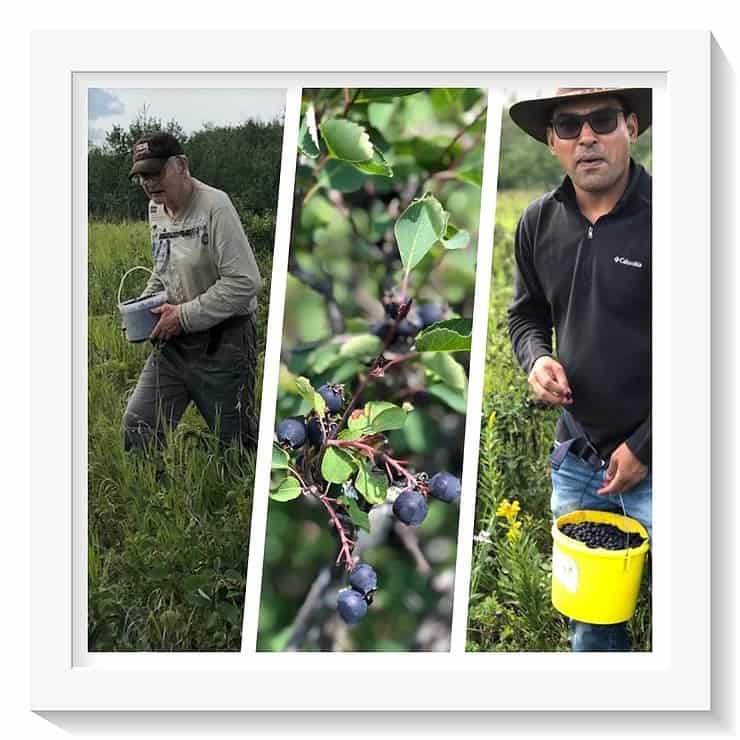 Bill carried two pales, a water cooler, and a bee hat veil. He has a favorite scenic spot, which I am forbidden to reveal to anyone. Bill had suggested I wear protective clothing like boots and long sleeves to shield against weather conditions.
Awe descended as I looked at the abundance of saskatoons. Bill joked, "If you can pick saskatoons for over an hour, that will be good for two-and-a-half years." There we launched to pick berries in the silence of the late afternoon.
Yes, saskatoons have a superfood status due to higher antioxidant levels than blueberry, acai and goji berry. Saskatoons are a rich source of fiber, magnesium, calcium, and manganese. The indigenous people use these berries since inhabitation northwestern America. The berries can be dried for use during long winters.
Canadian bears love these berries. As Bill says, "bears consume saskatoons for their hibernation program." Grizzly bears and black bears hibernate approximately for five months during winter. They do not eat, drink, defecate, or urinate during their winter sleep.
Bill started to pick saskatoon at the age of four. He continues to go berry hunting every summer for the last seventy-five years, except for a few years spent in Europe.
We drove past the Misery mountain, alongside the Mighty Peace River toward the Shaftesbury trail. "Mitchell Reserve," Bill said to another spot filled with Saskatoons.
It's a time with the creator in silent gratitude. How true, things you never do are the very things that surprise you. And my favorite saying once again proved right: the best things in life are free, and they are available in abundance.
Something for you …
Need funny and thought-provoking stories about priests, buy on amazon The Uncommon Priest: Incredible Stories You Never Read
Check out my spiritual videos on YouTube: Feroz Fernandes
ferozfernandes.com is a participant in the Amazon Services LLC Associates Program, an affiliate advertising program designed to provide a means for sites to earn advertising fees by advertising and linking to Amazon.com.