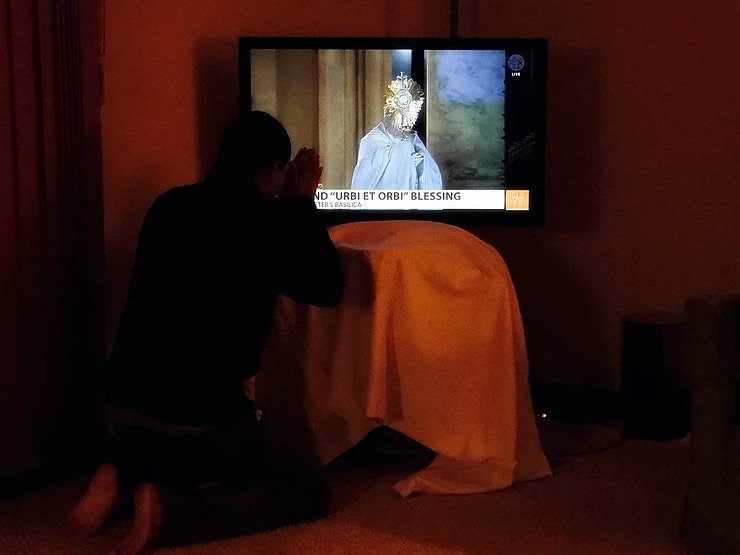 No one could predict that a microbe could baptize the visual-media gadgets as a means of prayer. People continue to add prayer moments to their daily TV time. For the first time in history, watching spiritual content has taken precedence over sports and entertainment. Say as you like it, amidst coronavirus lockdown, people spend more time in prayer at home than in the church.
The internet connects us to spend time in prayer as a family via services like Zoom, FaceTime, and groups calling apps.
Grace Nirmala, a top multinational executive, says that their family gathers for evening prayers through a video conference call on Zoom. Zoom provides thirty minutes of free calling. "We pray, chat, and finish within half an hour," she adds.
Families across the globe affirm that they spend more time staying in touch. But Coronavirus lockdown forces people to find creative avenues to connect to God. People are adjusting their TV schedules to watch live streaming masses on social media across the globe.
Seniors are turning tech-savvy to get connected to the live streaming from their parish churches. "My daughter has set up a Facebook account for me so that I can watch the live streaming mass from our parish," says a senior, who was once a critic of social media.
Monsignor Charles Lavoie, vicar- general of the archdiocese of Grouard McLennan, Facetime Sunday mass for eight sisters and their families spread across Canada.
My mom back home in India tunes in for a mass at noon telecasted on TV in a language she cannot follow. But that's a new normal. I am sure the same is true for many seniors and families – spending in prayer while watching a mass on TV.
YouTube has become another convenient service, search the content at any time, and start watching. But more and more people are creating spiritual videos than ever before. A senior lady did a video for the first time to send a message to all the priests that she is praying for them.
Over 11 million people watched Pope Francis' blessing, Urbi et Orbi, to seek the plenary indulgence from the comfort of their homes. Yes, there was awe, silence, and tears in the eyes of the views. Audio-visual media nourishes a church without a wall.
New trends bring in guidelines, as people begin praying online. A Facebook post read, "How to best experience church online." The instructions suggest preparing the ambiance with candles and crucifix to attend mass online. You are invited to gather as a family at the same time. It calls the participants to recite the prayers and join in the responses, maintaining a dress code, and switching off the mobile devices. The recommendation is to focus on the Eucharist and receive spiritual communion. With time, such instructions will only increase.
The quintessential experience of an online church is to worship and not to watch. Oh, I forget about the last instruction to like, share, and comment to create interaction – smash the reaction emojis buttons.
Allison Hill, a teacher at Catholic school, says that her family prays the Coronavirus novena. PrayerMoreNovena.com mails to your inbox every day a novena prayer for deliverance from the coronavirus.
Various prayer suggestions and faith activities are circulating via social media. There is a suggestion to hang a Divine Mercy picture on your front door. The belief that God will pass over and spare your family from the dangerous virus.
Missionaries of the Holy Spirit posted an idea on their Facebook page for Palm Sunday: to put any green branch of your door or window. The post reads, "despite social distancing, to be connected as we enter into the holiest of weeks… We are united as the body of Christ."
A Facebook post read, "Can we get 10000 shares during the Holy Week for the stations of the cross." Although I do not endorse such postings, I do say people follow without a second thought or feel guilty that evil my come up them, if they refuse to take action.
A multitude of WhatApps messages also sows guilt for not taking action and forwarding the content. People are coerced to follow with a desire to receive a blessing and avoid a curse. But I know a few people who break such chain forwarding messages, stating that God has blessed us. – God doesn't want us to be guilty, without a genuine reason.
Indeed, a new consciousness has dawned to engage with God and family via an audio-visual medium to pray in times of distress. We continue to stay connected to God, family and friends, and the whole world as never before.
Something for you …
Need funny and thought-provoking stories about priests, buy on amazon The Uncommon Priest: Incredible Stories You Never Read
Check out my spiritual videos on YouTube: Feroz Fernandes
ferozfernandes.com is a participant in the Amazon Services LLC Associates Program, an affiliate advertising program designed to provide a means for sites to earn advertising fees by advertising and linking to Amazon.com.