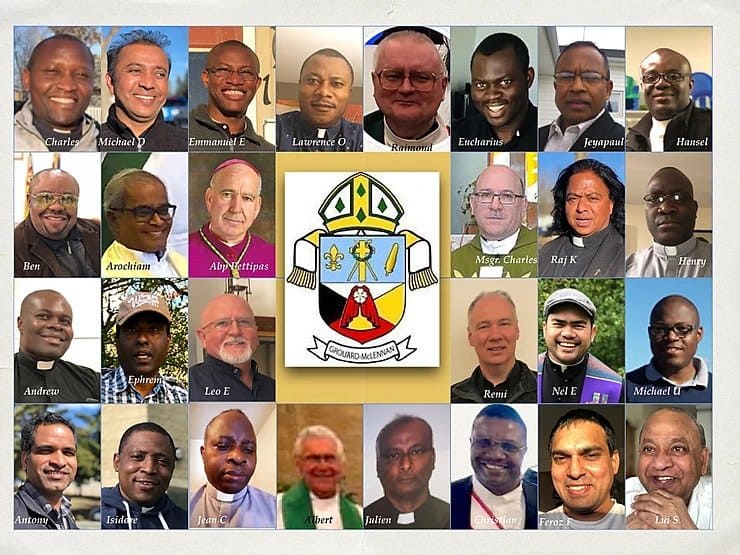 In unprecedented times where the public cannot assemble for the Eucharist, all pastors stay connected to their people via social media or telephonic conversation to foster spiritual communion and advance pastoral concerns.
In a letter to the priests, Archbishop Gerard Pettipas CSsR acknowledges that the social distancing restrictions during lent and the holy week is a "time of deep suffering" for the people and the priests. Pettipas, Archbishop of Grouard-Mclennan, encourages priests to be "understanding and calm with those who are upset." the Archbishop wants the priest to "insist on the protocols" in the decree for liturgical celebrations amidst COVID-19.
St. Joseph Catholic Church, Grande Prairie, opened sacred space for people from 9:00 am to 9:00 pm as an "opportunity to come and seek peace." The ministry titled "Open Door" requires people to log on to SignUpGenius, as only two people are requested to be in the church at any given time. Among other audio-visual aids, the parish creates YouTube videos to accompany people with the Wednesday novena Our Mother of Perpetual Help and other devotions.
Our Lady of Peace Parish, Peace River, welcomes visitors for private prayers and visits to the blessed sacrament. Nel Esguerra, Peace parish pastor, invites people to sign up by phone and be ready to follow instructions of volunteers. Like bigger parishes, Peace Parish live-streamed the masses. Father Emmanuel Ekanem asserts that such times "calls for a different way to understand life when social interactions are conditioned."
On Sunday, Monsignor Charles Lavoie had Facetime mass for seven sisters of his eight sisters.
Father Bernard Akum, SDV (Grouard), says that crisis brings in a new strategy to reach our people. Father Bernard pastors to a coronavirus affected family, by calling them twice a day.
"Trust God and push ahead. It's a trial moment," said Father Hansel Nwachukwouji, the pastor at Manning. Father Hansel emailed all the parishioners about important church notices.
At Holy Family Chruch, Grimshaw, I took this opportunity to build an email list of all the parishioners, as not all are connected to social media. I did send a letter to all my parishioners with relevant information.
As an associate pastor, Father Leo English CSsR is busy doing new ministry: phoning parishioners, especially seniors, homebound, and those self-isolating to assure them that the parish is there for them. He ends every conversation with a prayer and a blessing. Grande Prairie has over 7000 Catholics.
It is a new virtual reality for priests: Face Time, Zoom, or Skype. Father Leo English connects through such medium with the schools. Grande Prairie has six Catholic schools. He has also joined a school prayer group to support the teachers.
Taking the phone, Father Lawrence Odoemena(High Prairie) calls three parishioners a day for a casual chat. "I intend to finish by five minutes but end up talking for half an hour," he says with delight. "Most times, my calls to the parishioners are work-related," he adds. Father Lawrence ends the phone conversation with a blessing.
Father Ephrem Thomas from Slave Lake personally calls parishioners over eighty years old for a chat. "Today, I picked the mail and medicine for one senior parishioner," he says with joy. Slave Lake has a team of elders helping elders for shopping and picking mail. "People are ready to help," Father Ephrem says. "It is not organized but just happens."
Andrew Simiiyu (John D'Or Prairie) has encouraged people to pray the rosary. He confidently shares, "Jesus is there for our people all the time."
Father Michael Uso Ereyi (Valleyview) engaged in discussions via email with the finance committee to make decisions. Father Henry supports the efforts of the Catholic Women's League and Knights of Columbus from Our Lady of Good Counsel Church, High Level, to reach out to the homebound with groceries.
Something for you …
Need funny and thought-provoking stories about priests, buy on amazon The Uncommon Priest: Incredible Stories You Never Read
Check out my spiritual videos on YouTube: Feroz Fernandes
ferozfernandes.com is a participant in the Amazon Services LLC Associates Program, an affiliate advertising program designed to provide a means for sites to earn advertising fees by advertising and linking to Amazon.com.