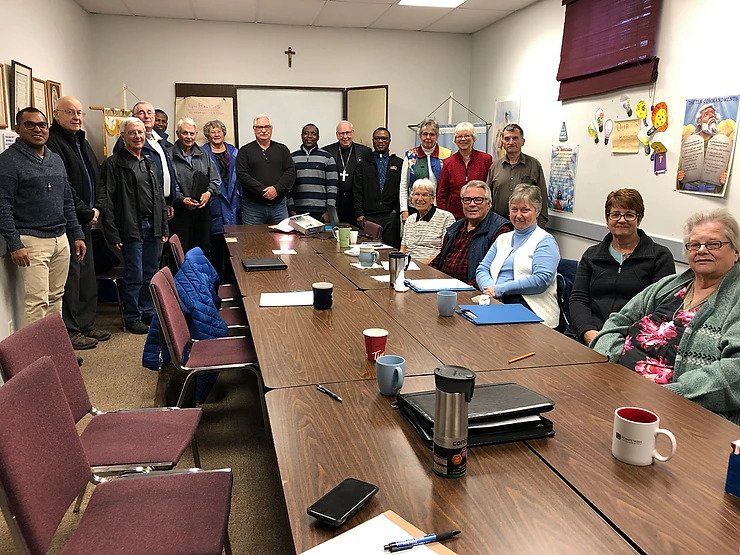 Gerard Pettipas, the Archbishop of Grouard-McLennan, conducted a Diocesan Parochial Relationship workshop for Peace River deanery representatives on October 10.
"It's a huge pastoral challenge," Bishop Pettipas says. "The relationship between the Church and the people is weakening." The prelate observed that the town might grow in size (population), but the church attendance is declining.
"What are we going to do to reach out," the bishop said, advising that the Parish Pastoral Council should start a conversation. "I don't look for success, in terms of measurement, but in terms of effort," Archbishop Pettipas said. Archbishop Pettipas further noted that "We can do nothing," is the wrong answer even when would efforts fail.
Nineteen participants, including five priests and a nun, joined the first of its kind workshop for deaneries held at Peace River Church. The Archbishop will conduct the same workshop for McLennan, Grande Prairie, Slave Lake, and High-Level deaneries.
The Archbishop gave the historical narrative from apostolic times to understand the rich heritage behind the terms like Bishop, Priests, and Deacons. He stressed the importance of Vatican II, bringing forth the element that "ministry is service to the people of God."
Bishop Pettipas pointed out that "the relationship between Bishop and priests is important in the Catholic Church." The bishop added that this relationship is based on "love. It goes beyond agreements and contracts."
"What can I do to make the priest visible in the community," the Archbishop suggested as most priests are from outside Canada. He requested the parishioners to accompany the priest to town and community events, like building a bridge between the church and the community. The Archbishop is looking forward to reaching out to our indigenous people.
The archdiocese of Grouard-McLennan has 18 parishes, and 25 quasi-parishes, and another 25 mission stations. On a lighter side, there were two learning starters quizzes on bishops and priests.
Something for you …
Need funny and thought-provoking stories about priests, buy on amazon The Uncommon Priest: Incredible Stories You Never Read
Check out my spiritual videos on YouTube: Feroz Fernandes
ferozfernandes.com is a participant in the Amazon Services LLC Associates Program, an affiliate advertising program designed to provide a means for sites to earn advertising fees by advertising and linking to Amazon.com.