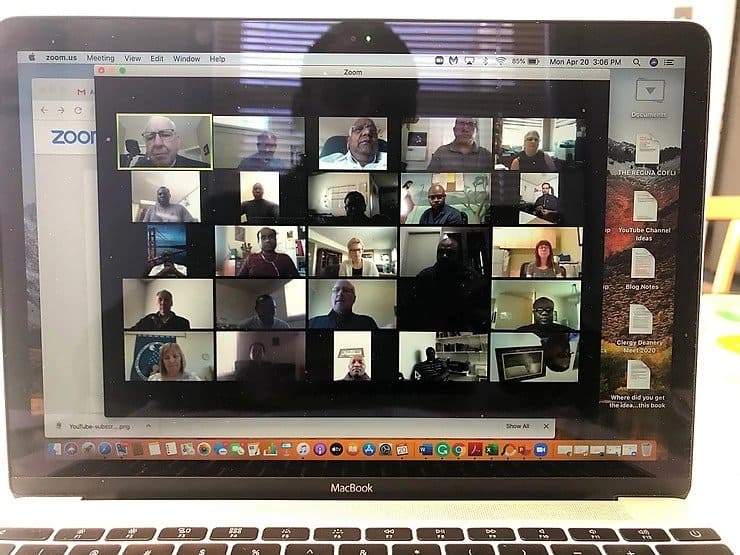 In a first of its kind for Grouard-McLennan, Archbishop Pettipas met all the priests on Zoom. Pandemic does impressive things, too. With basic connectivity and gadgets, archbishop, monsignor Charles Lavoie, Paulette Carrier (finance administrator), and twenty-five priests could join in for a special meeting with the DCG, the archdiocesan fundraising consultants on April 20. Thirty-two participants joined the Zoom meeting.
Archbishop Gerard Pettipas, C.Ss.R, called on the priests to suggest a lead volunteer for each parish that could reach out to the parishioners in times of pandemic. The lead volunteer will operate as a liaison between the pastor and the people, building a support structure to communicate relevant information.
The archbishop expressed concern to stay in touch with parish members in their spiritual needs and promote efforts to support the parish communities in the material needs.
On April 27, the archbishop will meet all lead volunteers and the priests on Zoom. The lead volunteers will be further assisted with other parish volunteers to communicate with smaller clusters in the parish via mail or phone calls.
The first step for the parish contact program is to collect a census like data, which will be exclusively used by the archdiocese. Archbishop hopes to email or mail relevant material to each Catholic in the archdiocese.
The archbishop is concerned about the unmet needs of people due to the COVID-19 restrictions. The volunteers will listen to the people and communicate concerns to the priest and the archbishop. It will help to build a better response to reach out to the spiritual needs of the parishioners.
Archbishop plans to record a video each week for the people. He says he has discovered "Movie Maker" to edit the material. Also, you may find a personalized letter from the archbishop in your inbox or mailbox.
The archbishop is looking forward that the volunteers will keep in touch with parishioners firstly to see how everyone is managing through the crisis. Secondly, the volunteers will engage in best practices to contribute to the upkeep of the parish, making people's giving to the church as easy and convenient as possible.
Something for you …
Need funny and thought-provoking stories about priests, buy on amazon The Uncommon Priest: Incredible Stories You Never Read
Check out my spiritual videos on YouTube: Feroz Fernandes
ferozfernandes.com is a participant in the Amazon Services LLC Associates Program, an affiliate advertising program designed to provide a means for sites to earn advertising fees by advertising and linking to Amazon.com.