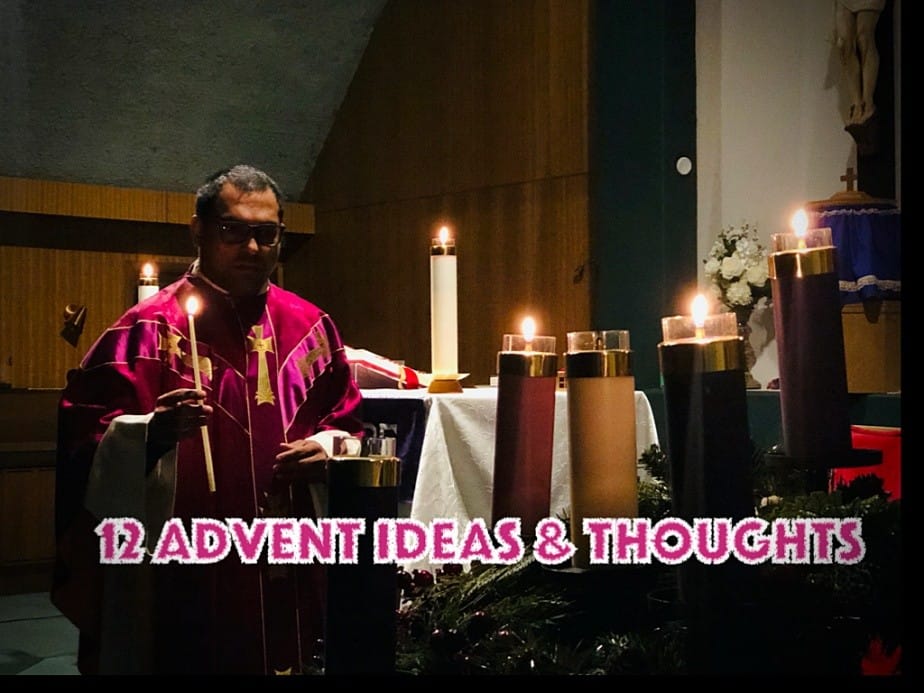 Before I set out to share Advent ideas, I will write what you don't want to hear. Yes, house rules. I do have thoughts on the season of Advent and Christmas.
First rule. Do no harm spread no disease.

Second. Please keep it simple.

Third. Rest, serve others, and introspect.

I wanted to write the fourth: don't break the first three.
What Christmas is not
Make it boldly known "Christmas about togetherness and family" is contrary to the message of Christ. The feast of incarnation is about a God who gave up pride, privilege, and prestige to enter into a human experience of joy, sorrow, suffering, and death. The feast of incarnation is to do something for others – continue to be authentic followers of Christ amid pandemic.
As I read in the Office of Readings: Cleverness is useless without innocence (November 26).
The obligation of giving gifts (to our own) ruins the theological message of Christmas. It about giving to those who have nothing to offer back, except immense gratitude. Christmas is not about excessive consumer spending, overindulgence in food and drink, and unrealistic expectations from family and friends.
Advent invites us to balance cultural influences and spiritual calling, consumer spending and Christmas devotions, extreme festivities, and personal introspection. It's not about moderation; it is a call towards radial authenticity as a follower of Christ.
Something that people forget about Advent
Yes, I will talk about ideas for Advent. Let us explore the Christian meaning of Advent. Advent is not a time – 40 days or four weeks before Christmas. Christians unfamiliar with the liturgical year often are confused that Advent is about anticipating Christ's birthday celebration. Advent is more about the coming of the Parousia – the second coming of Christ.
Early Christians would spend time in penance, prayer, and fasting. Nowadays, Christians agree that Christ's first coming was in a Bethlehem manger, and Christ will come again as a judge of all nations. Advent liturgy balances remembrance of Jesus' birth and anticipation of the second coming of Christ.
It is a remembrance of what happened on a silent night, but it is more of an anticipation of what will happen on the final judgment. So, don't let the remembrance festivities of Christmas eclipse the anticipation. Remembrance leads us into anticipation.
12 Advent ideas during COVID
1. Liturgical Housekeeping of Symbols of Faith
Our homes open us to the possibility to celebrate liturgy due to the pandemic. Electronic media allows engagement with spiritual content. We do have the sacramental signs as reminders of the sacred in our homes. Now is the time to do liturgical housekeeping – attend to these signs of faith. You have a crucifix hanging on the wall or a family altar with statues of saints. It's time to relook at them, keep it clean and remember the experience of putting it there.
2. Prepare an Advent Wreath
You sure know about it, but hardly had one at home. Always the church or the school had one. The four candles representing the Sundays of Advent is a call to prepare for the coming of Christ. The lighting of the candle is a short yet significant ceremony you can do along with your family. Even if you are alone, it is a symbolic ritual in preparation for Christmas. If you want to do more, read about Advent Wreath; also, there are prayers available online for each Sunday.
3. Advent Online
Advent is online than ever before. You can sign up for everyday email reflections during the days of Advent. I saw a video series on Advent. Sign up to get it straight into your inbox. You can download an advent calendar or join the Christmas novena from December 17 onwards.
4. Set a time for devotional reading, spiritual practice
What am I doing this Advent that I never tried before? It's like trying a new recipe. You are adventurous in life; why not in spirituality? Try a new spiritual discipline, a prayer, a novena, or spiritual exercise. Set a time to read religious content to be informed about faith.
5. Donate to Food Bank
Food banks serve the unfortunate or those experiencing economic hardships. What you can offer with ease alleviates a great burden for the poor and the vulnerable. What is Christmas with charity? And charity is not exchanging gifts. It's about offering assistance to those who cannot payback. There exist a deep sense of gratitude within the beneficiaries – sometimes, the giver will never know the joy it brought to the recipient.
6. Phone Visit
How can I visit over the phone? Phone people that you know. You wish you could do it for those who are alone or isolated. Give them a call, speak to them, moreover listen to their story. I remember, every Christmas, I visited people whom nobody would see on December 25, mostly relations and others that I knew. You can make their day, create a happy memory, and feel blessed.
7. Set a time to do nothing
I love this. It's different from being lazy. You consciously choose to do nothing, resist the urge to complete even the smallest task. Like a meditation, allow yourself to sit in silence, listening to the world around or within you. Sometimes, it happens. But set a time for it – no music, no aromas, no munching food or sipping water – yes, no social media posts. Don't even tell the world you are doing it.
8. Play Christmas Carols, and why not sing them aloud
I love Christmas carols for both the magic it creates and the mystery it commemorates. I had a priest friend who enjoyed singing Christmas carols, even in early spring – sometimes waiting for the next flight. I still cherish the sound of carols in the morning as I get ready for the day. YouTube provides a variety of Christmas carols for free. Let your evenings resonate with the sacred melodies.
9. Simplify Deco and Baking
Christmas happens, irrespective of COVID. It's kind of hard for some – who are set to recreate Christmas as if the pandemic does not exist. The simplicity of the festivity challenges us to re-examine the routine rituals of Christmas. I feel less is more. I know people who do more than that and still sit with guilt: I could have done more. It's an exercise in chasing vanity when the Christmas jingles fail to evoke a sense of sacredness.
10. Share Advent & Christmas ideas with friends
We are consuming so much online content; it's easy to share something interesting about Advent and Christmas. Give a like or comment to appreciate the Christmas centric content creators. Sometimes, type "thank you" for those who share interesting things with you. You can be creative in your engagement levels with exciting content.
11. Write to appreciate Pastors, volunteers, and those who serve others
A kind word filled with love sends blessings to those who are engaged in serving others. Our priests and church staff, and volunteers often hear the job-related concern and deal with issues. Advent time offers us an opportunity to encourage, appreciate, and support people who serve others. You can send a card or write a note or an email if it is convenient – text or phone.
12. Get in touch with Vatican News
Vatican News or Rome Reports shares messages of Pope Francis almost every day. Take time to watch the 2020 edition of the annual Christmas display in St. Peter's Square intended to be a sign of hope and faith amid the coronavirus outbreak. It's great to hear it from the official source than from secular media outlets.  It's meant to be a new resolution in the information world.
What do you think? Do let me know in the comment section below.
Something for you …
Need funny and thought-provoking stories about priests, buy on amazon The Uncommon Priest: Incredible Stories You Never Read
Check out my spiritual videos on YouTube: Feroz Fernandes
ferozfernandes.com is a participant in the Amazon Services LLC Associates Program, an affiliate advertising program designed to provide a means for sites to earn advertising fees by advertising and linking to Amazon.com.