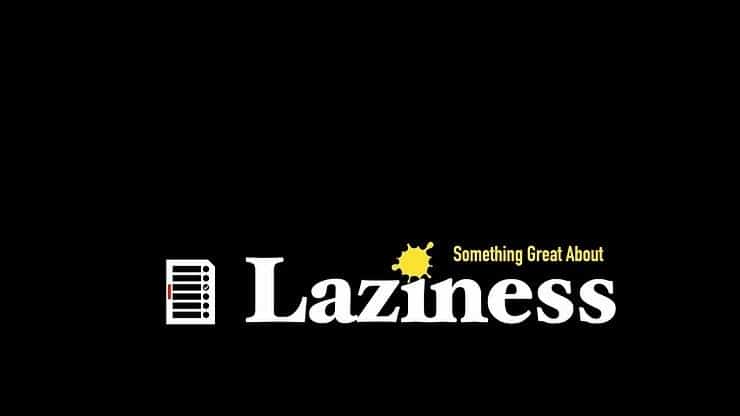 Admittedly, it's the dumbest thing to say amidst shutdown.
I talk about laziness, even when people switched to work from home, attend online classes, and discover new modes to interact. Apart from these positive trends, the disruptiveness brought in pain and suffering to the vulnerable – daily wage earners, migrant workers, and low-income people – those with no means to provide for their families. Laziness may appear a luxury, but it is an innovative necessity.
I want to share random thoughts on laziness. Those who know me must have heard this one – " I am lazy" or "my ultimate objective is to be lazy."
I am working on it.
I do have friends with stricter routines. I suggest they add – lazy time to their schedules. Just block the end number of minutes to be lazy on your daily calendar.
Why I got attracted to the idea of laziness?
Years ago, I read something like this:
If you want the smartest way to get a thing done, tell a lazy person. To save time, the lazy person will invent the fastest way to get it done
Bizarre, right.
It was the opposite of what I knew – if you want a thing to be done, tell a busy person, not the one who is free with lots of time.
Studies show that those who procrastinate do have a better chance to improve the results of the end product – they got more time to think it through than the others who struck a deadline to finished their project as planned. Just because the procrastinators missed a deadline, there is no reason to assume that they will not make it with a style.
The laziness can lead you to build castles in the air. But there is a probability that the lazy ones can think strategically. They have time at leisure to stay open to an insight – they have the time to be in touch with their best and worst selves.
I am sure you want to read more. I told you, "I am lazy."
But just before I hit the lazy chair again, send me your comments on my blog post.
Something for you …
Need funny and thought-provoking stories about priests, buy on amazon The Uncommon Priest: Incredible Stories You Never Read
Check out my spiritual videos on YouTube: Feroz Fernandes
ferozfernandes.com is a participant in the Amazon Services LLC Associates Program, an affiliate advertising program designed to provide a means for sites to earn advertising fees by advertising and linking to Amazon.com.