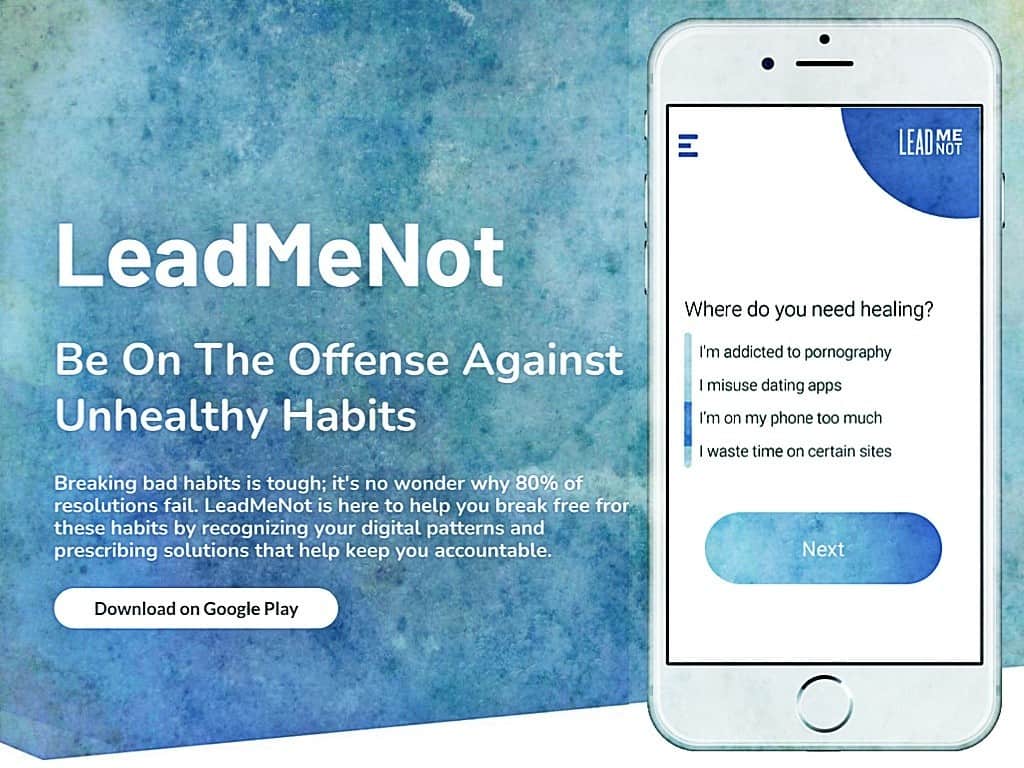 LeadMeNot is a free accountability platform designed to help combat destructive digital habits. On February 26th, 2021, LeadMeNot's Founder, Jason Mathew launched the app as a tool to help recognize digital patterns and prescribe solutions to break free from online addictions. Mr. Mathew talks about "healing" from all forms of digital addiction: from pornography to social media overuse to general web surfing.
Mr. Mathew, a Product Manager in IBM's Data and AI business, admits, "breaking bad habits is tough; it's no wonder why 80% of resolutions fail." LeadMeNot allows you to be on the offensive against unhealthy habits while leading you on a path to freedom.
"It's never easy to admit that you need change," says Mr. Mathew, whose parents hail from Kerala, India. It is challenging to fight certain behaviors that are no longer fruitful – or were never fruitful – and for some, it is near impossible. That's where LeadMeNot can help.
Personal Testimony to Combat Sexual Sin
Twenty-nine-year-old Mr. Mathew developed LeadMeNot as a result of his struggle with sexual sin. He admits to online dating addiction, which offered pleasure, satisfaction, and filled the void of curiosity. These behaviors on these apps provided approval and acceptance, leading to an unhealthy relationship with women – objectifying women around him and failing to see those women as made in God's image. With the support from his church brothers, Mr. Mathew experienced freedom from such destructive behaviors. Now, Mr. Mathew is committed to making the same freedom available to others struggling with destructive digital habits.
Mr. Mathew confessed about the "most powerful prayer" he ever prayed: Lead me not into temptation but deliver me from evil (Mathew 6:13). As he affirms to be the Founder of LeadMeNot, Mr. Mathew proclaims, "above all, I am a new creation in Christ."
Apart from working at IBM, Mr. Mathew finds time to be part of 60 young adults. It's a ministry called "The Collective," which gathers every Monday evening in Tulsa, Oklahoma. Mr. Mathew says that his focus these days is about being missional: What does it mean to evangelize? Mr. Mathew wants to connect "technology and faith to bring men and women to Jesus."
What can LeadMeNot do?
LeadMeNot is a smarter and holistic way to stay accountable. LeadMeNot, available on Google Play, allows you to customize your journey to reach freedom based on specific areas of struggle. The app's initial focus is to help users fight unhealthy sexual behavior, specifically, porn consumption.
LeadMeNot offers bold features like accountability partners who can walk with you through self-reflection and introspection. It provides real-time alerts based on users' consumption of explicit/implicit sexual content, as well as user-defined triggers to proactively address behavior leading up to sexual content consumption.
LeadMeNot is the world's first accountability app to provide a truly holistic approach towards fighting unhealthy habits. In the words of Mr. Mathew: Don't settle for the status quo; start taking new steps towards freedom.
Mr. Mathew feels excited and nervous about LeadMeNot. "I want to trust Jesus and not get discouraged." The app launched four days ago and is garnering positive feedback – and knowing that some people will download it just to check out, Mr. Mathew has a modest goal of seeing 1000 active users by the end of the year.
How did I connect with Jason Mathew?
Arnab Mandal, a mutual friend based in Bangalore, India, suggested I connect with his IBM colleague Jason Mathew in the United States of America. That was in early January 2021. We connected via WhatsApp.
It was then that Mr. Mathew shared his testimony with me.  He told me about his passion for developing LeadMeNot, but as he mentioned his desire to leverage artificial intelligence, I got hooked.  Can you imagine the impact of artificial intelligence to guide people in making proactive choices and overcoming unhealthy digital behaviors? What if I could tell you 10-minutes on Instagram after midnight makes you 90% more likely to watch porn? That's a powerful statement, and though it's one that LeadMeNot can't solve for just yet, it's one they hope to solve for sooner than later.
You can download LeadMeNot for free today on Google Play. If you have any questions, concerns, or general feedback, please email Jason at jason@leadmenot.org.
Watch Jason Mathew's testimony on YouTube.
Something for you …
Need funny and thought-provoking stories about priests? Buy on amazon The Uncommon Priest: Incredible Stories You Never Read
Check out my spiritual videos on YouTube: Feroz Fernandes.
ferozfernandes.com is a participant in the Amazon Services LLC Associates Program, an affiliate advertising program designed to provide a means for sites to earn advertising fees by advertising and linking to Amazon.com.