Without wasting time, Nacho walked on the snow. Even with snowshoes, he let himself enjoy the unexpected landing into waist-deep snow. He didn't mind the snow blizzard, the downward slope. Nacho buried himself in snow, hands clinging the ski poles.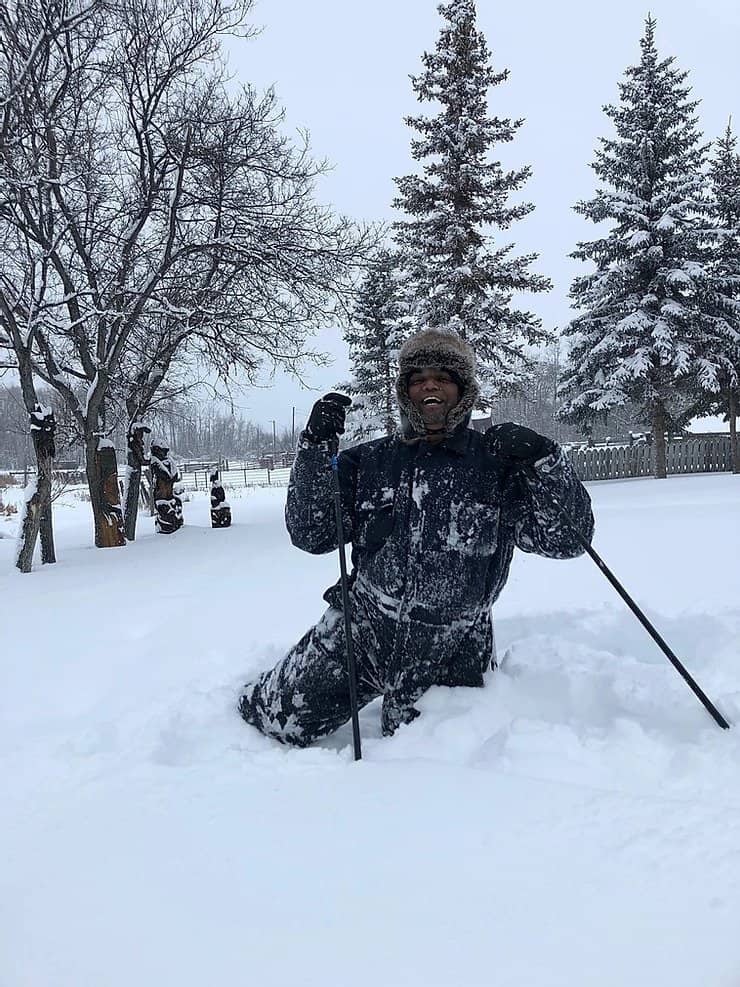 He calls himself "Nacho." He had a plan to visit me in Northern Canada. I suggested visiting during the winter months. Nacho took the challenge to experience snowy winters for the first time.
"I have come with an open mind," Nacho says. "No plans. Let's do what you suggest."
That takes us to try fun and super easy winter outdoor activity: snowshoeing. Snowshoe is footwear to walk on snow without sinking into the snow.
We drove to Shirley Connelly's place for the adventure walk. Edie, Shirley's husband, had left a trail on the snow-covered gravel road. It made driving a bit easy. We passed through the drifting snow, piling on the way. I held on to the steering, lest we get stuck in four feet snow or slide in a ditch.
Snowshoeing is like hiking on the snow. The modern snowshoes are fancy as compared with the traditional ones.
"I snowshoe," Shirley says. "The other day, I walked on the Figure Eight lake for a little over an hour." As Eddie immerses in ice fishing, Shirley snowshoes.
Now, snowshoeing a wintertime hobby. In the past, snowshoes were an essential tool for fur traders and trappers or anyone who living depended on walking in areas with deep and frequent snowfall. I did not know that the oldest snowshoes discovered dates back to around 3700 B.C.
Where motorized vehicles are inaccessible, snowshoes provide an option. It is a safe activity. But on icy or steep terrain, snowshoeing can be challenging.
Shirley's house sits on an elevated area, with the snow covering the downhill. That's where Nacho had an enjoyable fall.
"I am sweating," Nacho said as we snowshoed. Snowshoeing is an aerobic workout, strenuous than walking.
As the winter breeze blew, our noses running, we forgot about the exercise. We clicked loads of pictures to share with our friends. Nacho had me videoing the fun walk.
Something for you …
Need funny and thought-provoking stories about priests, buy on amazon The Uncommon Priest: Incredible Stories You Never Read
Check out my spiritual videos on YouTube: Feroz Fernandes
ferozfernandes.com is a participant in the Amazon Services LLC Associates Program, an affiliate advertising program designed to provide a means for sites to earn advertising fees by advertising and linking to Amazon.com.