"I was threatened to join CWL by a priest," Elaine Szopa recalls. She remembers the priest asking whether she is a CWL member. Elaine, new to the town, had met the priest for the first time. The priest informed Elaine to join the CWL meeting the following day. Elaine shared this personal story during the Catholic Women's League retreat in Grimshaw, Alberta.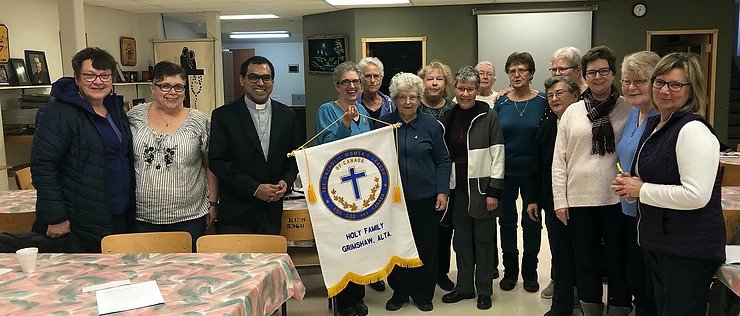 Rev. Feroz Fernandes led the retreat for CWL members from Berwyn, Grimshaw, and Whitelaw on February 1, 2020 at Holy Family Catholic Church, Grimshaw, Canada.
Rev. Fernandes, the pastor of the three communities, spoke about the importance of sharing stories to promote CWL's primary objectives, Catholic values, and volunteer in charitable works.
"It was so cold; the priest wouldn't even turn on the heat," Elaine says. It was Elaine's first CWL meeting. Elaine sat beside an elderly lady who was in a wheelchair. Although, the elderly lady became Elaine's mentor in years to come. But on that day, the lady in the wheelchair swung her hand, knocking Elaine down on the floor. For almost four decades, Elaine continues to be an active member of CWL. Currently, Elaine is the President of St. Theresa's CWL in Whitelaw, Alberta.
The Catholic Women's League of Canada is a national service organization of women who are members of the Roman Catholic Church, and who work together to promote Catholic values and to carry out volunteer and charitable works.
The ladies from St. Cecilia, Berwyn, Holy Family, Grimshaw St. Theresa of Child Jesus, Whitelaw spent an hour and a half reflecting on how to share stories to encourage new members. It was the first time these groups joined together for a combined spiritual formation program in the one parish.
After the retreat, Eileen McGuire said that sharing faith-based stories "keep us grounded into our membership." Eileen, the president of CWL Grimshaw, says, "When I became Catholic, I thought every Catholic woman was a member of CWL." Eileen, a member since 1976, acknowledges that such retreats "keeps us united in our faith journey and Christian service."
"I have a story to tell how I became a new member," said BettyAnn McBride, who attended the first event as a CWL member.
A CWL member over forty years feels that such retreats lead towards deeper thoughts on the reasons for CWL. Another participant noted that it's a new approach that she hadn't thought about "tell a story."
The retreat was an opportunity for participants to join a spiritual program of CWL. Participants included CWL members, also a few who are not active CWL members, women in the community, and new members.
Alice Mullink acknowledged, "it made me stop and think about how I can tell a story better." Winnie Gayton said that she "likes the idea of CWL telling stories of their work."
Something for you …
Need funny and thought-provoking stories about priests, buy on amazon The Uncommon Priest: Incredible Stories You Never Read
Check out my spiritual videos on YouTube: Feroz Fernandes
ferozfernandes.com is a participant in the Amazon Services LLC Associates Program, an affiliate advertising program designed to provide a means for sites to earn advertising fees by advertising and linking to Amazon.com.