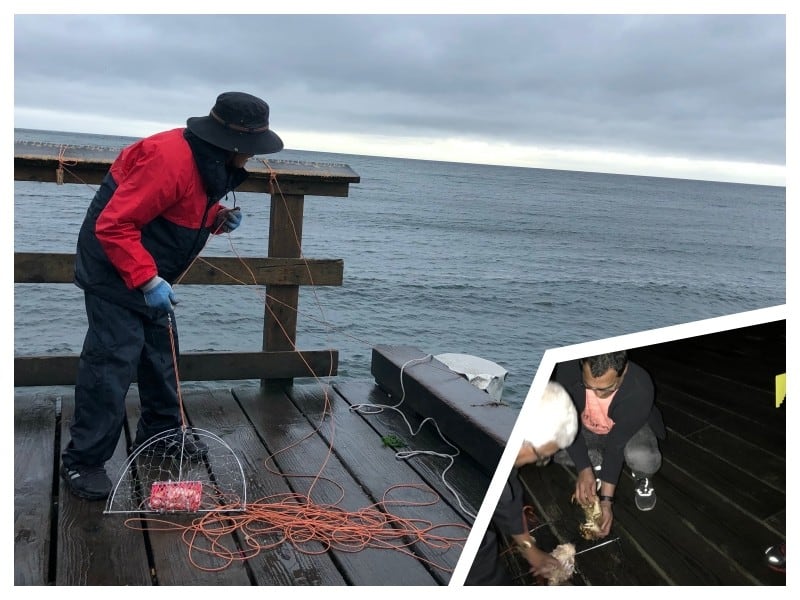 I found myself flinging circle traps into the ocean to catch crabs at Gibson, Sunshine Coast island in Vancouver. And the high tide was a perfect time for crabbing, a night ambiance under a gazebo on the pier provided an ideal setting for friendly conversation. Although I was on the Sunshine Coast, crabbing was happening at night with a cloudy sky, windy conditions, and occasional drizzle of the rain.
I joined two other priest friends, Ed and Newton, on a driving adventure from Calgary to Vancouver. Jack, a friend priest, hosted three of us in the parish rectory during the COVID 19 pandemic. Newton was our fishing pro – preparing the traps, instructing about the rules, and showing us how to identify male and female crabs. Catching carbs was not new to me. But it was a kind of first – crabbing on the West Coast in the pacific ocean.
Fishing Rules And License Holder Awareness
You can catch crabs but learn the rules to avoid hefty fines. First, you need a valid fishing license. Abide with the rules to be safer, use the crab caliper to measure the crab's size. Secondly, Alaska crab needs to be 7 centimeters to be a keeper. You can keep a red rock crab if it is bigger than 115 millimeters.
We caught Dungeness crabs, a West Coast favorite. And we did see a small red crab. Rules are not over; you can only keep a male crab. It is illegal to keep a female crab. The female crabs are thrown back into the ocean. A fishing license holder can use only two circle traps. A circle trap folds itself into a semi-circle as you pull the trap to the shore and open up when it lands in the ocean. Oh, one trap can hold more than six to eight crabs. A license holder can bring home four legally sized crabs.
What Crabs eat?
Baits! What crabs eat? Believe it or not, the smellier the bait, the better. Crabs have a keen sense of smell. Notoriously greedy crabs scavenge on rotten foods. The best chance to catch crabs is on a high tide, as our professional fisherman said. Our bait was chicken legs.
We had company on the pier, another fellow crabbing alongside. He chatted with us, cracked jokes, and answered the questions he posed for us. At one point, he said: what time is carbs' bedtime?" he said. "They don't sleep. Oh, you can catch them all night."
The pier had demarcated fishing and swimming area. And visitors came to the dock to have a dip in the ocean. A few enjoyed a good smoke on a windy evening.
We did crab for three consecutive days, But the last day was with no luck due to bad weather. We did have box traps, but no success in catching crabs. I did see a kayak trap with one crabbing companion. For us, it was more of a hobby, recreation, and relaxing time. Finally,  we did have sixteen giant crabs as our reward.
The best part: Jack prepares a mouth-watering crab xec xec (shek shek) for our evening dinner. It's a spicy Goan Crab curry with coconut paste. Crabbing is complete when you savor the spicy crabs. Why not try the crab xec xec next time?
Something for you …
Need funny and thought-provoking stories about priests, buy on amazon The Uncommon Priest: Incredible Stories You Never Read
Check out my spiritual videos on YouTube: Feroz Fernandes
ferozfernandes.com is a participant in the Amazon Services LLC Associates Program, an affiliate advertising program designed to provide a means for sites to earn advertising fees by advertising and linking to Amazon.com.