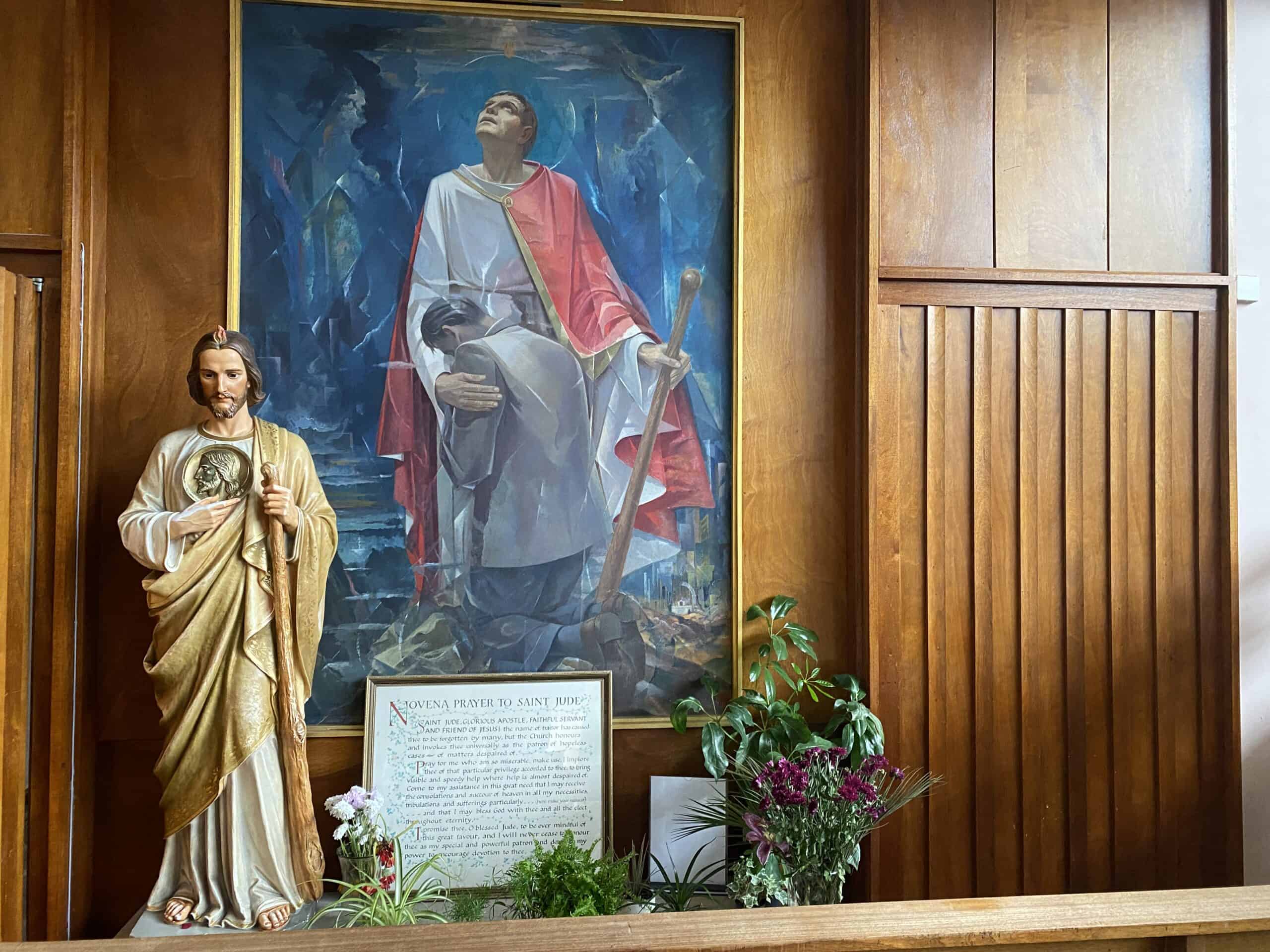 I woke up early one morning without the help of the alarm. The thought of pilgrimage led me into prayer. Later in the morning, I was supposed to accompany a group of seniors on a pilgrimage to the National Shrine of St. Jude in Faversham, Kent, England.
While I was still in bed, I recalled that St. Jude is a patron saint of desperate cases and lost causes. The previous evening, I did prepare to share a brief reflection during a planned prayer service for the group at the Shrine.
I felt something was missing; there was no punch line. In addition, if I wanted to talk about St Jude to younger people, the wording "desperate cases or lost causes" may sound odd to their current lifestyle.
Then – there it was, staring at me – St. Jude, patron saint of shortcuts. Read again – a patron saint of shortcuts.
Everything I prepared felt in place. Young people want shortcuts in life – it needs to be quick. For many people, instantaneous is the preferred default option.
"A pilgrimage has three essential parts: confession, communion and Mass," said one group leader. "We cannot do this, as there are restrictions on the site."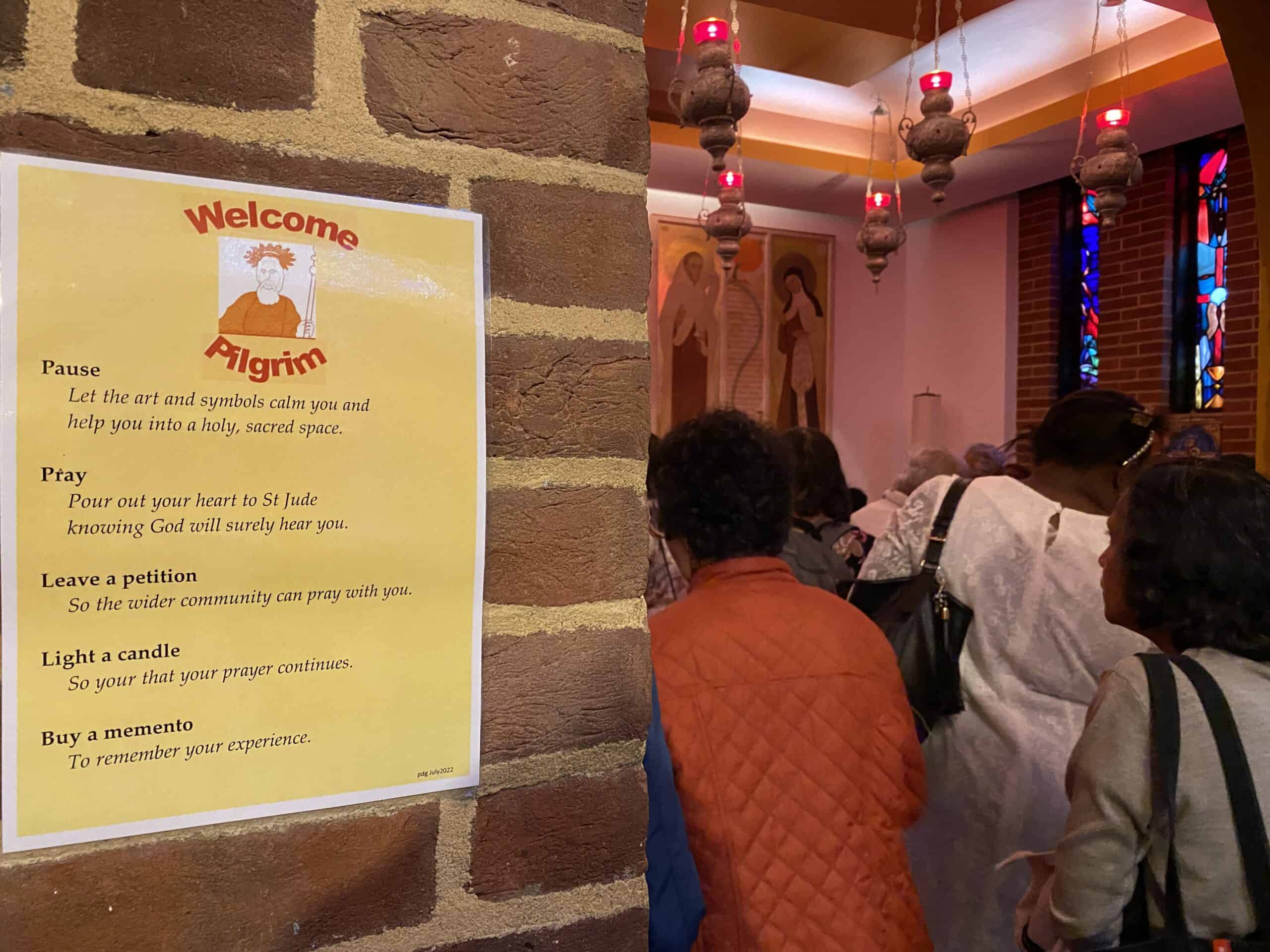 But we spent our prayer time in a special room with the relics of St. Jude. It was a small room to accommodate 32 people. Some sat on the available benches, a few knelt down in front of the statue, and the rest stood while praying the rosary.
We prayed the novena to St. Jude, pausing for silent petitions. It was a faith moment – everyone in deep prayer – some eyes cringing – even tears rolling down to open their hearts of God.
What did I pray to St. Jude?
I have changed my prayers to saints and in holy places for over a decade. Nowadays, I humbly pray that whosoever petitions to a saint and in a sacred place may have their prayers answered.
I pray with people who need the favour more desperately than myself. It's like someone is missing a flight to the desired destination. S/he is rushing, saying: thank you, sorry, whoever creates a way for them to reach in time. And finally, they say – Thank God, we made it in time, and the gates close, a feeling of relief even when last to board the flight.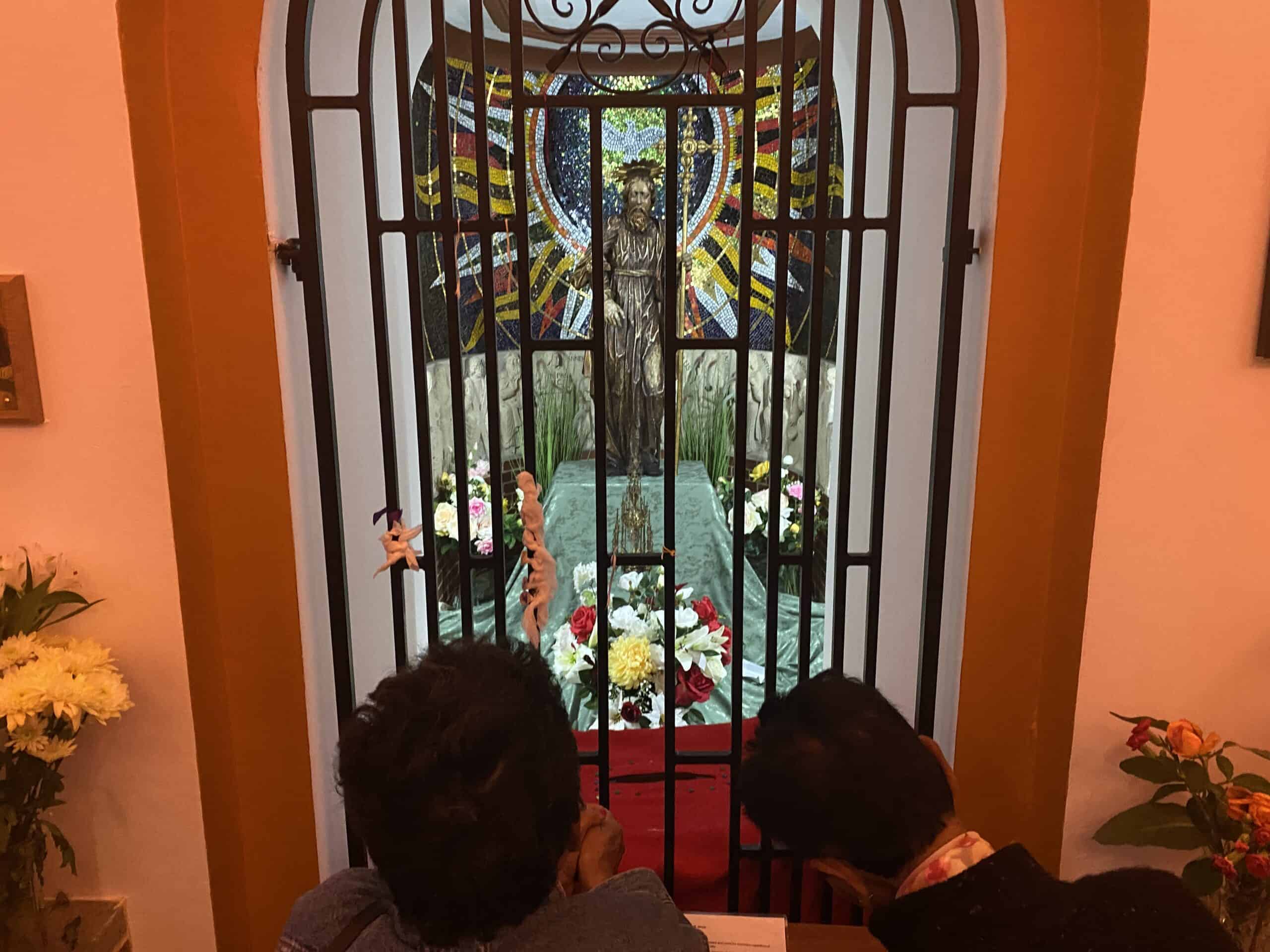 To say it differently, it's like a prayer queue – the most urgent ones get attended to on a priority basis as if life and death depend on it. I was in the Emergency Room at Goa Medical College, watching doctors attend to patients with accidents who were brought into the ER.
I asked the doctors what the pattern was for attending to a new patient in the ER. They simply told me that the most urgent patient is treated first as a matter of life and death. If a patient can hold on with the minimum support, then that patient will be attended to in due course of time before shifting to ICU or recovery wards.
Why am I telling you all this? That is what I recalled at the pilgrimage site: How does God or St. Jude prioritize people's prayer requests?
Are you a confident devotee who can wait for a miraculous intervention?  Why not, when you are in safe hands?
What about shortcuts in prayer?
Yes, I did say – a patron saint of shortcuts.
I reflected on the Gospel reading (Luke 4:38-42) for the day, where Jesus heals Peter's mother-in-law. In most healing miracles, Jesus touched the person to cure them. But in this instance, Jesus rebuked the fever, and it left her. The word "rebuke" is often used to cast out demons. Although the scripture is silent about Jesus casting out demons from her, it notes that the fever immediately left her.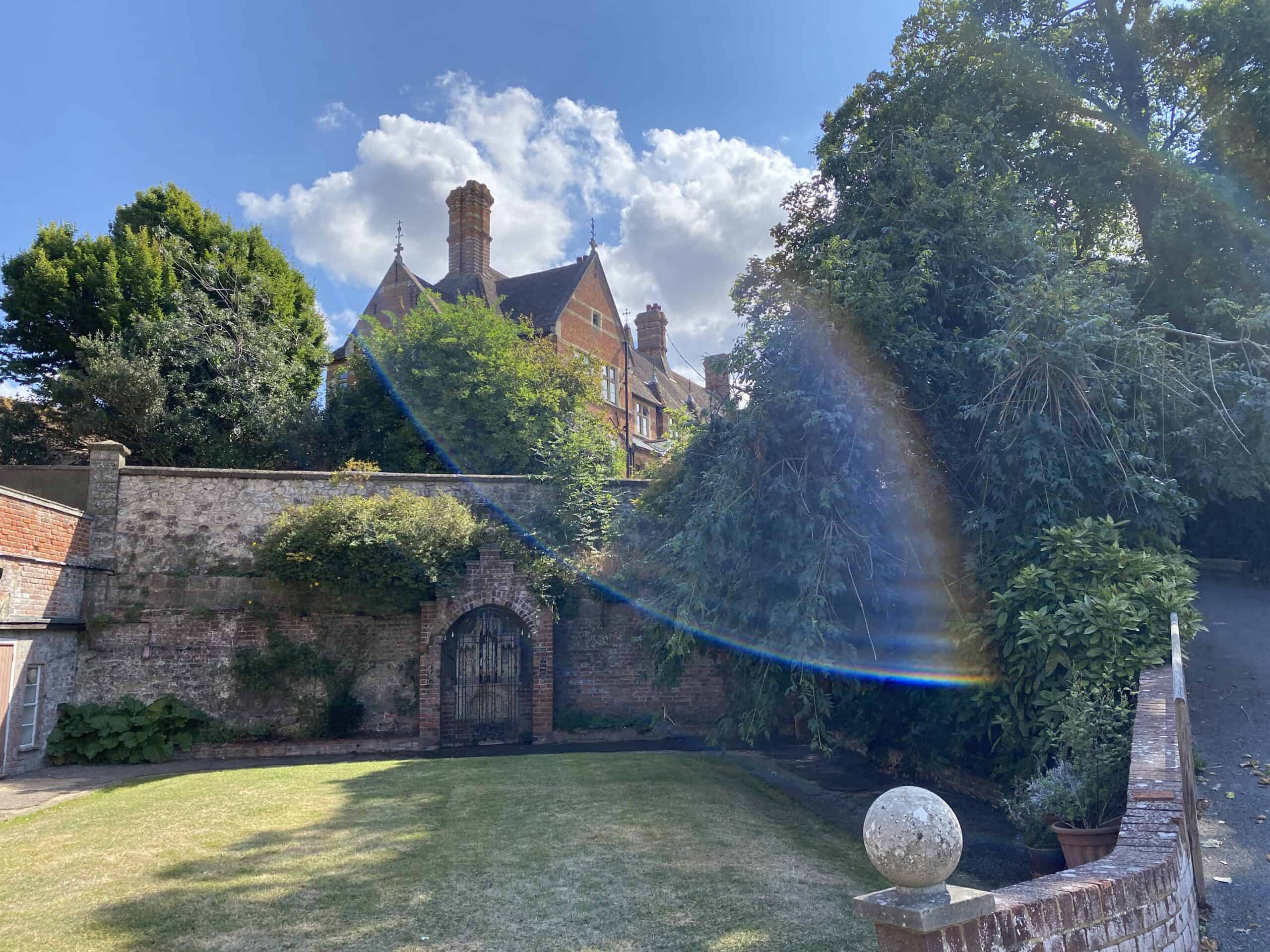 The word "immediately" is essential. Shortcuts are to get things done immediately – in a quick instant. Fever was an obstacle that hindered Peter's mother-in-law from being her best. After the miraculous intervention, she began to serve them. It means she regained her strength to be the best – and serve others.
I prayed to St. Jude to remove obstacles which hinder us from being at our best – have the energy and strength to live a life of virtue in service of others. Devotees face dire circumstances and demeaning habits that hinder them from receiving a "shortcut" blessing.
How did I identify with St. Jude?
People go to a holy place with reverence, pouring out their prayers. It's always a place to empty our innermost intentions – and become open to letting great things happen.
But some also carry the prayers of their loved ones or friends. I did have such prayers – of people who requested my prayers or whom I told them I would pray during the pilgrimage. There are those whom I continue to pray in gratitude for being kind and generous towards me, and my brother priests and nuns who answered God's call.
Something new I have started recently is standing in front of a saint or God – allowing the saint to speak to me personally – to strike a connection with the saint.
I did that to St. Jude. I pray less to St. Jude. But I always marvel at people who testify the favours they received through the saint's intervention. St. Jude is famous across the world, helping people in desperate times and situations.
That day, I connected with St Jude like never before. St. Jude is often confused due to his name with Judas Iscariot, one who betrayed Jesus or with one among the Seventy-two people whom Jesus sent out.
St. Jude is one of the twelve apostles of Jesus. The feast day of St. Simon and St. Jude is on October 28. You can read the epistle by the apostle in the Bible, it is short and meaningful.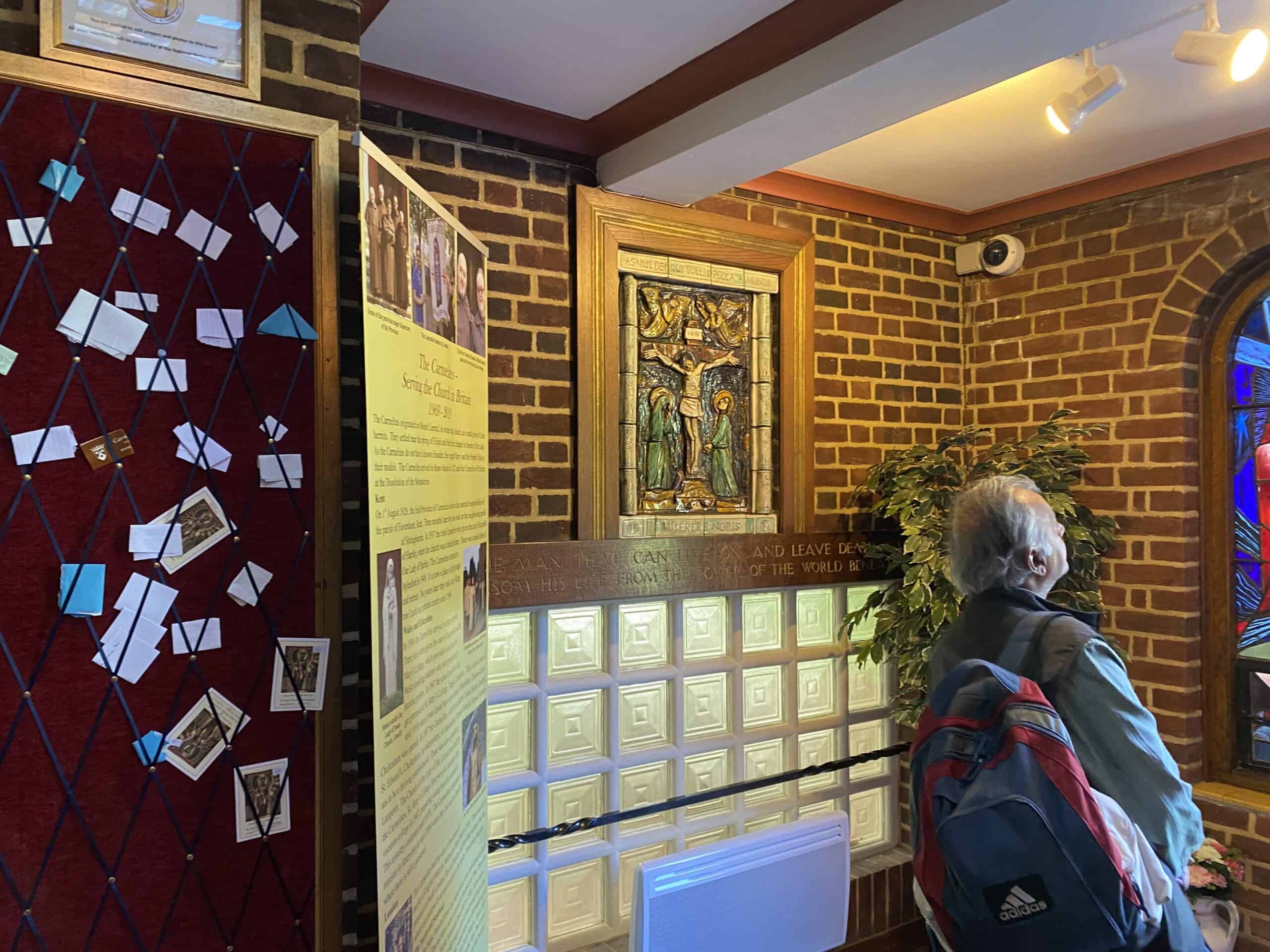 Like St. Jude's name, mine also invites a bit of confusion. Is it a Portuguese or Persian name? Did I embrace Catholicism later on in life? Did I adopt this name? And like St. Jude, I like to get things done fast – in a quick manner. I want results for the best way forward. Spiritual life doesn't work like this. But if I can help, I might as well do it now rather than delay it.
This was my prayer to St. Jude.
I dwelt into my mental list, and there was nothing I needed desperately or the way I saw it. I had to upgrade one prayer wish to a desperate level that would free me immediately to be the best I could be of service.
Better give St. Jude a tough one, a prayer I felt impossible to achieve from my effort. I am confident it will be granted – but I want it immediately, Oh my patron saint of Shortcut – deliver me, always and in all ways.
About the Author
Feroz Fernandes, a Catholic Missionary, identifies himself as an Uncommon Priest. Father Feroz loves adventure in the apostolate. Check out his debut book The Uncommon Priest: Incredible Stories You Never Read on amazon. And also, the YouTube Channel: Feroz Fernandes promotes a better understanding of scripture.