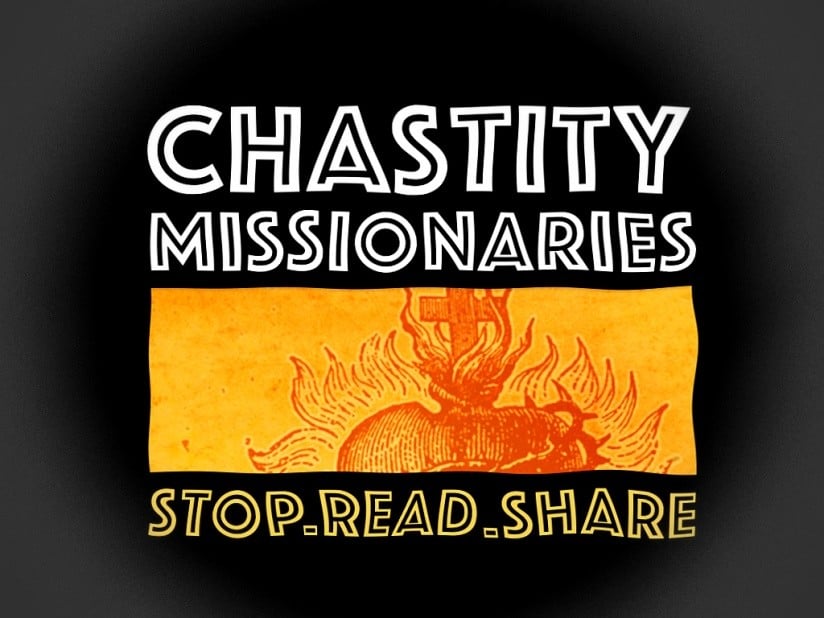 In a daring adventure to curb the number one threat to innocence, a premier non-profit organization plans to launch missionaries of chastity beginning from May 2021. The danger is internet pornography – increased harmful sexual activity online. Jason Evert, the founder of Chastity Project, made this exciting announcement during a webinar on December 15, 2020.
Chastity Project instills hope as it becomes a "game-changer" in appreciating the beauty of human sexuality. It is a novel approach to protect teens from the increased risk of sexual activity – a "crisis of epidemic proportions."
"Young people need to hear the good news in the digital congregation," says David Bereit, a Pro-Life Leader, introducing the Chastity Project to over 16,000 registered viewers.
COVID saw an increase in pornography consumption. Jason Evert shows charts of different countries – a spike from five to twenty-one percentage points at the end of March 2020. The pornography companies seized the opportunity to offer free premium content in the wake of the pandemic.
Research suggests boys aged between nine to eleven are beginning to get exposed to internet porn. Jason Evert identifies, "The number one sexual abuse perpetrators are eleven to fifteen-year-old boys, who are exposed to internet porn."
Parents often fail to guide their children on their first date and the threat it holds.
What is Chastity Project?
Chastity Project is in existence for over 20 years, sharing 3000 talks on the topic while reaching millions of teens. Jason Evert proclaims that the young people are "hungry for the message."
The organization distributes free recources like chastity books in schools and mission areas across the globe.
Marriage preparation is happening six months before the wedding. But Jason says that it should not be just as an immediate preparation. There is a need to focus on the proximate and remote preparation to be chaste and avoid problems from the beginning.
It is here; Chastity Project intervention is seeing the most results among teens. Jason is confident that the right resources at the right time can avoid unforeseen pregnancies, stop abortions, and abusive relationships.
How Jason plans to launch Missionaries of Chastity?
Forged, a new book by Jason Evert and Matt Fradd, invites readers to send a text to receive six emails containing free formation videos. The participants will then receive an invitation to launch a project of their choice to reach out to people with the core chastity message. And there you have the missionaries of chastity. The chart suggests 500 new missionaries in the first year of the launch.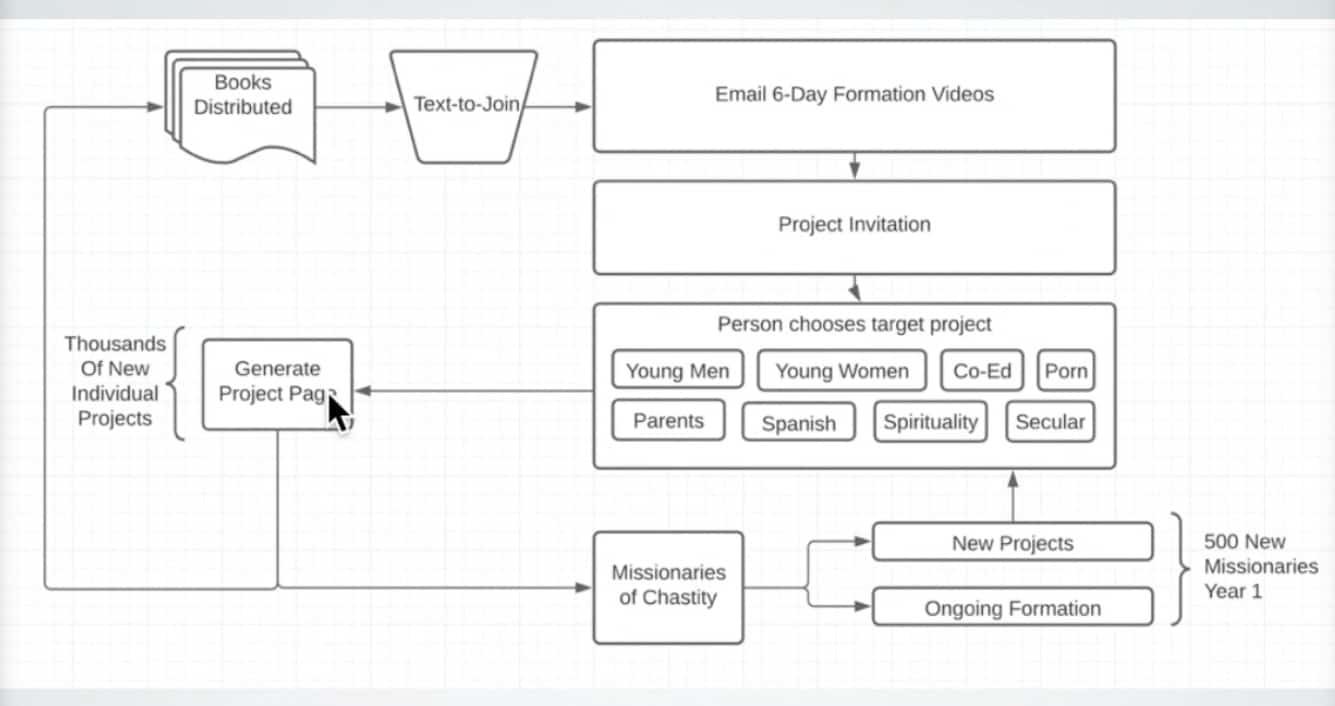 Ryan Foley of Covenant Eyes identified Chastity Project as a warning sign along the beach: Don't Enter the WATER. At the same time, we (Covenant Eyes) save people who did not pay heed to the warning.
Chastity Project has a hurdle to mobilize missionaries to spread the Good News. Jason requests prayer and fasting to turn the idea into reality. Chastity Project plans to send a copy of the book to every seminarian in America. Yes, the technical upgrades will need monetary donations. The webinar welcomed contributions to the cause.
The story behind the domain name Chastity.com
Jason tells a story behind the domain name: chastity.com. It was owned by a satanic group, propagating sexually explicit material. When Jason wanted to buy it, the owner quoted a six-figure price. Jason asked the cloistered nuns to pray. The money did not show up, but an exciting thing happened. The owner went bankrupt and was ready to sell the domain name at a much lesser price. Another porn competitor was seeking to buy the domain name. But finally, a family man, who was part of the board, sold it to Jason and his wife, Crystalina.
The couple runs regular podcasts. Jason talks about "Lust Is Boring," and Crystalina motivates with "Women Made New." You can check out the podcast on chasity.com. The couple has eight lovely kids.
Encouraging voices joined to show support for the Chastity Project.
"Chastity is a lifelong issue," says Mother Miriam of the Lamb of God, Daughters of Mary, Mother of Israel's Hope. "Unchaste relationship at any stage of life destroys us."
Matt Fradd, Pints with Aquinas, stressed the beauty of human sexuality. Lila Rose, Live Action, spoke about the culture of life. Chris Stefanick, Real Life Catholic, also spoke in admiration of the Chastity Project.
Christopher West, Theology of the Body Institute, says a "starvation gospel" forbids healthy conversations about Christian sexuality. Because people don't get enough, they rush to the "fast-food gospel," a world of instant gratification on the internet. Christopher West opens a new choice towards God's banquet of love that quenches the hunger for love.
Some Helpful Tools to Stay Safe
Safe Digital Family Challenge allows learning about internet security. Just send a text message with the word SAFE to 66866. You will receive free videos on keeping a clean heart online and installing internet security against porn.
Covenant Eyes is a porn filter that allows you to quit the habit and live your best life. It will enable being accountable together as a family.
Good Pictures, Bad Pictures are books to educate young people, kids, and families about healthy sexuality before being exposed to indecent images.
Pluggedin.com, with a focus on family, can filter out scenes inappropriate for kids and teens.
Check out all these and more resources on Chastity.com/parents.
Concluding Notes
How I got invited to the webinar? Thanks to Archbishop Pettipas. Archbishop Gerard Pettipas CSsR invited the priests of Grouard-McLennan to attend a webinar hosted by the Chastity Project.
Last year, my first post was on the topic of Asceticism: A Way Forward. I never thought about a global pandemic. But it made us live like ascetics, social distancing. We survived—the ascetic phase. Let's join to protect innocence. Missionaries of Chastity is a testimony of a life lived in fullness – a grace you want to share with others.
You can watch the entire webinar on  Chastity.com 
The website has interesting information.  The statistics are a sexy read. It's published in scientific journals, that thing that does not make media headlines. I suggest MUST READ the Stats page. And if you don't share it with teens and young people (school-age children), it's called sin by omission.
You can request more resources from Jason Evert, the founder of Chastity Project. He even shares PDF books for people to print and distribute to others.