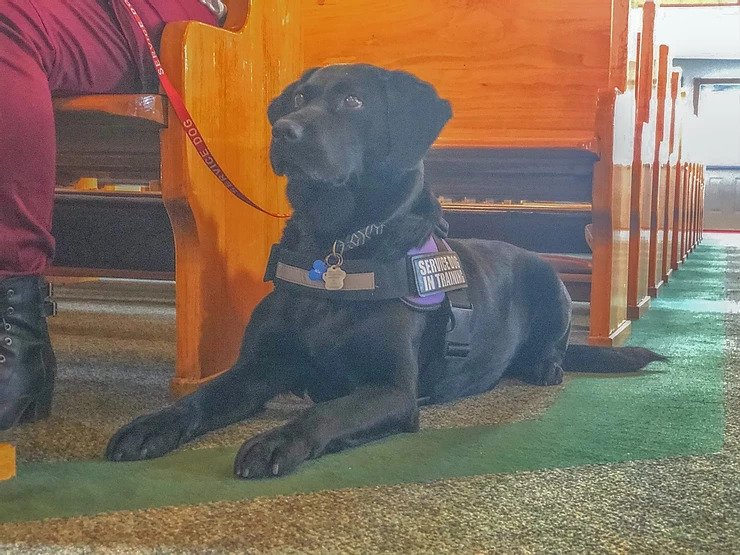 Service dogs are gaining legal access to worship places to assist their human masters in praying. It must be a service dog, not just any dog or pet.
Don't be surprised when you see a well-behaved service dog in the church. They are trained not to distract others during the liturgy. However, you may find a dog still in training, which means they are learning not to distract.
Service dogs are increasingly becoming invaluable partners to assist with specific physical, neurological, and mental health needs in worship spaces, like guide dogs helping the blind.
Service dogs remain calm yet alert in unfamiliar settings. Service dogs, trained to ensure safety in public, by law have the right to access public spaces. The access to service dogs into a worship space may vary based on countries or local administrations.
In Canada, service dogs to have legal access to churches – service dogs stay with the owner during mass, even if the dog is not wearing an identifiable vest.
Within the United States, churches remain exempt from the American with Disabilities Act (ADA). The owner will need permission to bring a service dog to church.
The priest has the discretion to handle the delicate issue when no proper diocesan guideline exists. But the priest needs to exercise caution and avoid asking for registration papers, as it can create suspicion and lead to discriminatory behavior.
The priest is allowed to ask: What is the dog trained to do? Or Is the dog required because of a disability?
Yes, the priest needs to watch out of a fake service dog – poorly trained, creating a danger to the worshiping community. It is an offense to misrepresent a service animal. The owner is liable if a service dog creates damage in the church area.
The priest cannot deny entry to a service dog simply because few parishioners are afraid of dogs or have allergies to them. Priests are challenged to respond sensitively – creating awareness about how the congregation should behave around these animals. The most preferred approach is to stay focus on the worship service and cultivate a non-judgemental attitude, maybe the trainers or owners will assist in creating awareness.
Fiona Meagher, a certified trainer of service dogs, accompanies a trainee dog to church every Sunday. "A service dog needs to familiarize with the odor of incense, the sound of the bell, and various aspects of Sunday liturgy, in case it is placed with a Catholic client," Fiona says.
Fiona told me that the dog lies beneath the bench for the entire service to enhance the worship experience of the owner. Service dogs are trained to follow instructions, sound alerts, and guide their human partner to relative safety. "A service dog is an asset for a person with disabilities to lead an independent life," Fiona admits.
Different types of service dogs:
Guide dogs lead visually impaired and blind people around obstacles.
Hearing dogs alert people with hearing impairment to noise
Mobility assistance dogs help people with mobility issues, increasing their independence.
Diabetic alert dogs, known as DADs, alerts to changes in blood sugar.
Seizure alert dogs predict specific behavior that can lead to a seizure – a controversial type.
Seizure response dogs help people experience a seizure.
Psychiatric service dogs assist people suffering from depression, anxiety, and PTSD.
Autism support dogs provide predictability for children to navigate social settings.
Fetal Alcohol Spectrum Disorders Service dogs support people diagnosed with FASD.
Allergy detection dogs trained to sniff out, alert to the odor that can lead to an allergy attack.
Therapy dogs or emotional support dogs are not categorized as service dogs. Unlike therapy dogs, service dogs will not provide opportunities for showing affection in a variety of settings.
Service dogs are improving the lives of people with physical, cognitive, and developmental disabilities. As regulations will catch up with new realities, congregations should maintain the best practices of being respectful and considerate.
You will know about studies that prove dogs provide health benefits, improve fitness, lowers stress, and increase happiness. And now, dogs help you to pray.
Something for you …
Need funny and thought-provoking stories about priests, buy on amazon The Uncommon Priest: Incredible Stories You Never Read
Check out my spiritual videos on YouTube: Feroz Fernandes
ferozfernandes.com is a participant in the Amazon Services LLC Associates Program, an affiliate advertising program designed to provide a means for sites to earn advertising fees by advertising and linking to Amazon.com.