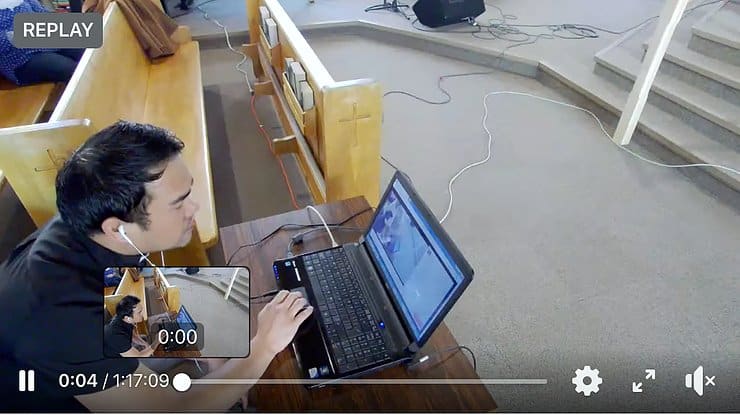 With churches closed for public gatherings, meetings, and pastoral events cancelled, the priests are catching up with family, friends, reading, hobbies, and fitness. I spoke to twenty-three priests from the archdiocese of Grouard McLennan. I am amazed at the enthusiasm of priests to keep busy in their daily routine, ever engaged in ministry, and building new skills to be a better pastor.
Father Leo English CSsR chatted via FaceTime with his five siblings, all across Canada, each one sat with a glass of wine. Father Leo, the associate pastor at Grande Prairie, forwards humor-related messages with regards to the coronavirus to create lighter moments in the lives of people.
Archbishop Gerard Pettipas CSsR spends hobby time in baking bread and making wine. He did confirm that the homemade "bread and wine" are not for religious purposes. With events cancelled, Archbishop Pettipas finds "more time than usual for reading and reflection."
"I am learning to cook," confesses Father Jeyapaul from Sexsmith. As a priest, Jeyapaul has stories about not knowing how to cook. As a pastor in Canada, he ordered food from "Meals on Wheels" for months, until bored to eat the same food.
Hansel Nwachukwouji, the pastor at Manning, also uses the extra time in experimenting cooking. "I followed instruction from YouTube to bake bread," he admits.
"I am not used to be idle," admits Charles Mungai from Fort Vermilion. He always finds something to keep himself busy: read, exercise, and cooking.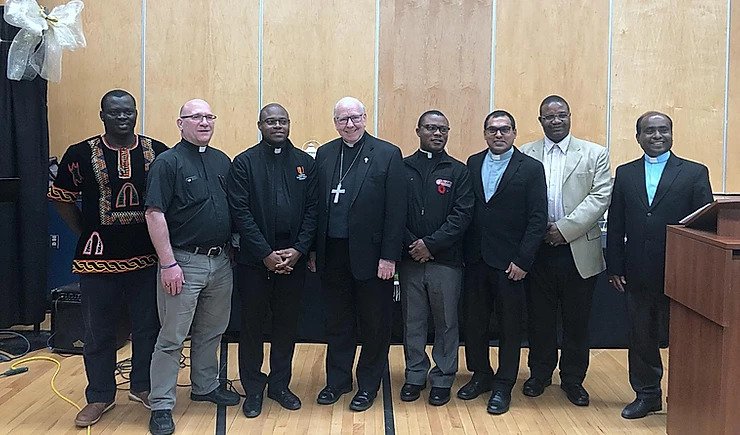 "We need to do what we ordinarily do," said Father Remi Hebert CSsR in a video message. He does workouts in the church hall, as the city gym is closed. Father Hebert, the pastor of St. Joseph's Grande Prairie, encourages people to stick to their routine to keep healthy in mind, body, and spirit.
"I am so active. I am not bored," says Father Bernard Akum from Grouard Mission. He is preparing for catechetical material for catechumens and candidates for sacraments.
Father Henry Kiggundu from High Level is catching up on reading. A week ago, Father Henry returned from Uganda and was in a fourteen-day self-isolation period. With the time at hand, Father Henry is proofreading a friend's book on a saint.
Father Andrew Simiiyu (John D'Or Prairie) spends the additional time cleaning the house. Father Jean Cornelius from Falher is catching up with office and personal work.
Monsignor Charles Lavoie continues to exercise on the treadmill with a personal favorite setting: Rolling Hills. "It's like walking in the countryside with the upward hill and decline features," Msgr. Charles says. Msgr. Charles prays the rosary while on the treadmill. Msgr. Charles watched a YouTube Video on the Gospel of St. John for three hours on Saturday. Even though the office is closed, Monsignor Charles Lavoie continues to work at the Chancery office on weekdays.
Father Isidore Onyeka (Fairview) says, "it is the beginning of spring," as he can walk outdoors to keep up his fitness level. As part of a routine, Father Michael Uso Ereyi walks in the Valleyview community, "waving to them" from a distance.
Father Eucharius Ndzefemiti, Rector of St. John the Baptist Cathedral in McLennan, loves to read before hitting the bed. He is waiting to go outdoors for cycling. "Let the ice melt," he adds.
Father Michael Dias (Beaverlodge) keeps updated with the latest news of the coronavirus from different channels. He enjoys a 10 km outdoor walk (when possible) and watches movies.
"I am going ice-fishing on the Slave Lake," says Father Raj Koppula from Joussard.
Father Lawrence (High Prairie) plans to tune his violin, start practicing it. He did not anticipate the break would last long. He also confessed, "my pen has dried. I like to write on different topics."
Father Ephrem Thomas (Slave Lake) is busy entering records in Parish Friendly software. "It's peaceful. I can work without distraction."
Father Andrew Simiiyu (John D'Or Prairie) found additional time to listen to music, catch up with people, family, and friends.
And you know what I do – write.
Something for you …
Need funny and thought-provoking stories about priests, buy on amazon The Uncommon Priest: Incredible Stories You Never Read
Check out my spiritual videos on YouTube: Feroz Fernandes
ferozfernandes.com is a participant in the Amazon Services LLC Associates Program, an affiliate advertising program designed to provide a means for sites to earn advertising fees by advertising and linking to Amazon.com.