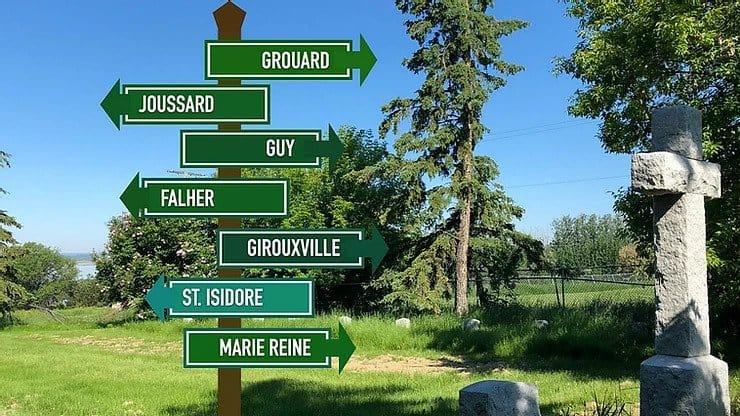 Prominent names of towns and villages in the archdiocese of Grouard-McLennan are of Catholic priests with noteworthy influence on the ethos of the northwestern Alberta.
Grouard, Joussard, and Guy are names of bishops, while Falher and Girouxville are francophone priests, St. Isidore named after the patron saint of farmers, and Marie Reine means Mary Queen of heaven.
Grouard has an incredible trajectory – named after noted Oblate priest Emile Grouard – incorporate as a village in 1909, later a town 1912, converted again as a village in 1940, and became a part of improvement District No 764 in 1944.
Grouard, located at the West end of Lesser Slave Lake, was formerly known as St. Bernard's mission since 1872. It was near the Hudson Bay Company post with majority Cree and Metis people. By 1900, St. Bernard's mission grew to be successful in the entire vicariate of Athabasca-Mackenzie.
The multi-talented personality of Emile Grouard with relentless energy profoundly influenced the religious and social development in Northern Alberta. The achievement of Father Grouard – a poet, musician, author, painter, and linguist – includes translation and printing of prayer books in Native syllabic – in Cree, Montagnais, Beaver, and Loucheux – even a dictionary in Montagnais. The artistic and religious rigor of Father Grouard can still be seen in the painting in the churches at Lac la Biche, Fort Chipewyan, and Fort Dunvegan.
Father Grouard remained in St. Bernard's mission for three decades till death, at the age of ninety-one, in 1931. Grouard was appointed Archbishop of Athabasca-Mackenzie Diocese.
Joussard, a hamlet in Big Lakes County, northern Alberta, is named after coadjutor bishop Celestine-Henri Joussard. Another oblate priest who served Emile Grouard, the apostolic vicar of Athabasca. Joussard was appointed a bishop to succeed Emile Grouard. But that did not happen as both the bishops, Grouard and Joussard, retired in 1929.
In 1931, the hamlet of Guy, in the Municipal district on Smoky River No.130, was named after a Roman Catholic Oblate missionary bishop Joseph-Wilfrid Guy. Bishop Guy, appointed bishop after the retirement of Bishop Grouard in 1930, served as vicar apostolic of Grouard till 1937. Guy was appointed as the bishop of Gravelbourg, Saskatchewan, Canada.
The town of Falher, known as the honey capital of Canada, is named after Father Constant Falher – a Roman Catholic Oblate missionary.
Girouxville, incorporated as a village in 1955, was initially named Fowler, but changed in 1917 to honor Father Giroux. Father Falher worked with Father Jean-Baptiste Henri Giroux. A bay and a lake in the province of Alberta is named after Father Giroux.
Both the priests Falher and Giroux served the francophone setters from Quebec and the northeastern United States in the Peace River country, Alberta.
St. Isidore is named after the patron saint of farmers. St. Isidore community is the last wave of migration from Quebec post World War II. The Winter Carnival at St. Isidore is a testimony of their cultural vibrancy. Coincidently, an Oblate auxiliary bishop by the name of Isidore Clut served St. Bernard Mission, Grouard, from 1864 till his death in 1903.
There is something special about a place named after Mary, the Mother of Jesus. The French-Canadian hamlet of Marie Reine (Mary Queen of Heaven) lies within Northern Sunrise County. Unlike most parts of Canada, Marie Reine has a unique plan with each lot as a twenty-acre strip.
Something for you …
Need funny and thought-provoking stories about priests, buy on amazon The Uncommon Priest: Incredible Stories You Never Read
Check out my spiritual videos on YouTube: Feroz Fernandes
ferozfernandes.com is a participant in the Amazon Services LLC Associates Program, an affiliate advertising program designed to provide a means for sites to earn advertising fees by advertising and linking to Amazon.com.