The unexpected always happens around Christmas time.
"We want you to have memories of winter in Canada," Alice Mullink says.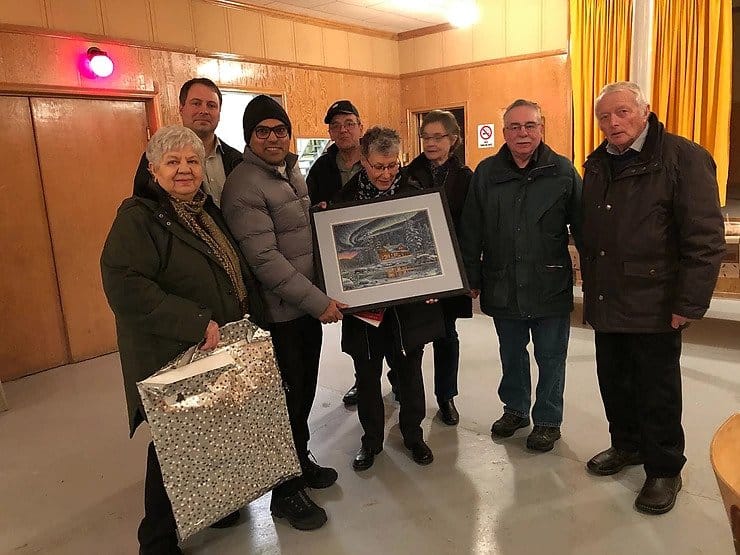 The parishioner of St. Theresa of Child Jesus, Whitelaw, gave me a memorable gift. It is a weaved canvas portraying a glow in a lakefront house in winter: snowcapped spruce trees and northern lights dancing in the sky.
I am spellbound as I unwrap the gift.
"What's this art called? I ask.
"I am less literate about art or craft."
"It's needlepoint art," Alice adds.
I had never heard of it. I googled it. It a thread embroidery, stitched with yarn through a stiff open weave canvas.
I spoke to Marina Gagne, who crafted the landscape.
"I follow a pattern," Marian talks about the skill she picked up as a child. "You need practice and lots of patience," she says.
I discover, I want my book cover: The Uncommon Priest weaved in needlepoint on canvas.
As the weather is below negative 30, I admire the gift and read into the night.
P.S. I wondered if it a good idea to make a church announcement. "You see northern lights in the area, call the pastor – irrespective of the time at night." I am waiting to see nature's light show. I'll drive out of the town even when it's -40 Celsius, to say hi to God's winter wonder.
Something for you …
Need funny and thought-provoking stories about priests, buy on amazon The Uncommon Priest: Incredible Stories You Never Read
Check out my spiritual videos on YouTube: Feroz Fernandes
ferozfernandes.com is a participant in the Amazon Services LLC Associates Program, an affiliate advertising program designed to provide a means for sites to earn advertising fees by advertising and linking to Amazon.com.