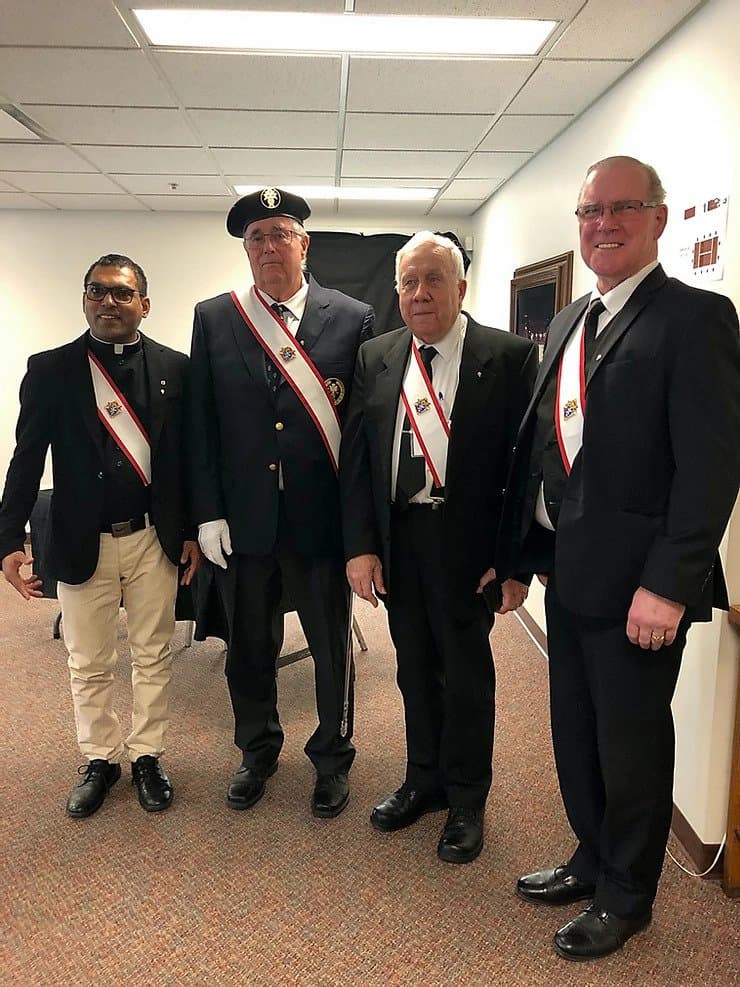 The Knights of Columbus (KofC) unveiled their secrecy about the rites of passage on February 15 in Grande Prairie, Alberta.
"You are going to witness the rites performed in front of the non-members for the very first time," Ernest Johnson told me. From January 2020, KofC allows wives to be present during the rites of passage of its members.
Although the convention of secrecy stands disrupted, the solemnity of the ceremonies and service orientation of the KofC continue.
A knight led four priests in a procession for the third-degree ceremony. For the first time, along with KofC members, their wives were present in the hall during the ceremony. But, the fourth degree of exemplification was performed in a separate chamber hall with only a few Knights, without their wives.
KofC knighted Rev. Eucharius Ndzefemiti SDV (McLennan), Rev. Christian Ogbonna SDV(Girouxville), Rev. Michael Dias (Beaverlodge) and Rev. Feroz Fernandes sfx (Grimshaw). Due to reasons, KofC knights the only the priests with all four degrees in one day. The priest serves as a chaplain of KofC in local parishes.
Along with the four priests, William Ruston, George Chuckvar (both from Grimshaw), Trevor Foley, Lindsay Hieir, and Geroge Okoye took the oath as a fourth-degree knight. Archbishop Gerald Pettipas C.Ss.R, Rev. Albert Sterzer C.Ss.R, and Rev. Emmanuel Ennakam (Chaplain for Bishop Grouard Assembly) were present during the ceremony.
The KofC is a foremost catholic service fraternal organization in existence since 1882. The four degrees demonstrate the core principles of the order: Charity, Unity, Fraternity, and Patriotism.
KofC engages in promoting service based on Gospel values. Every member actively seeks to support the church and its ministers.
One thing you will hear for sure: Without the practice of charity, there is no KofC.
As the mysteries of an oath-bound organization may continue to cease, but the call to engage in works of charity is ever alive and kicking.
Something for you …
Need funny and thought-provoking stories about priests, buy on amazon The Uncommon Priest: Incredible Stories You Never Read
Check out my spiritual videos on YouTube: Feroz Fernandes
ferozfernandes.com is a participant in the Amazon Services LLC Associates Program, an affiliate advertising program designed to provide a means for sites to earn advertising fees by advertising and linking to Amazon.com.