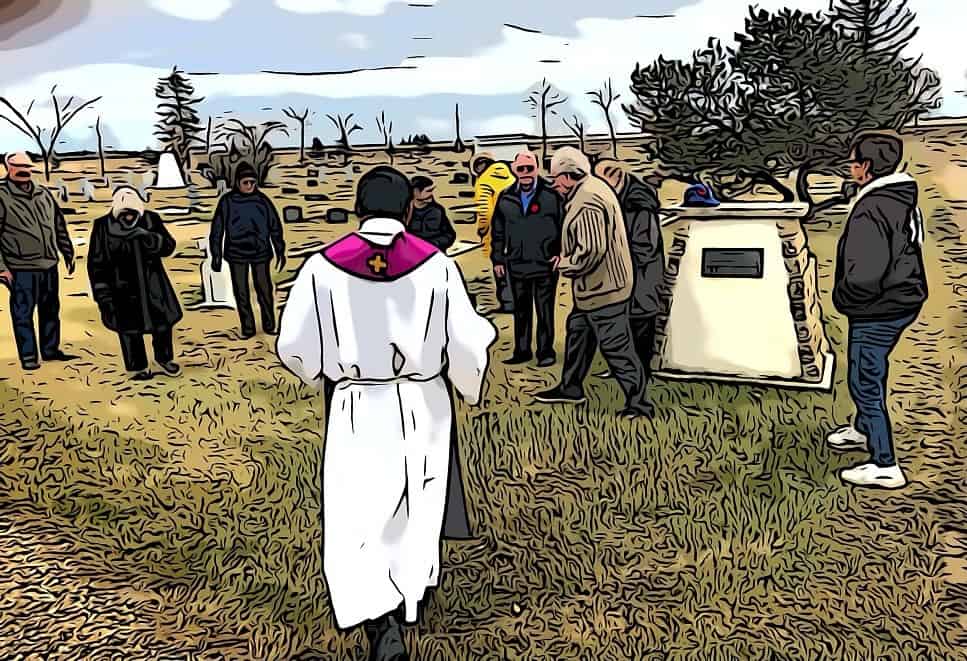 Are funerals a new opportunity for evangelization? Let's see the ground realities. Something fascinates me about funerals in Northwestern Canada, maybe it is true in many other parts of the world. As a fidei donum priest, I am puzzled about attendance at the funeral service – exponentially more than the Sunday congregation. The apparent observation: the number of active Catholics at a funeral may be less than one-fifth. Sometimes, you may even find just the deceased is/or was a baptized Catholic, and the family member wants to honor their wishes. Nevertheless, there is a diverse group of funeral attendees, with or without any Christian affiliations. Can I as a priest do something? Maybe even as active Catholics – is it our evangelizing opportunity?
First time I heard about the Idea
"Funerals are a new opportunity for evangelizing," said Father Emmanuel Ekanem, the director of evangelization in the Archdiocese of Grouard-McLennan (AGM), almost 500 km north of Edmonton, Alberta. That's the first time I heard about the idea. Father Emmanuel spoke during a brainstorming session of an ad hoc communication committee meeting for the archdiocese. Archbishop Gerard Pettipas CSsR was leading the committee to develop a communication plan for 2020-2025. I was part of a four-member think-tank type committee that included Archbishop Pettipas, Father Emmanuel, and Allan Forsberg, the outgoing communication director.
Google Search Results: Funeral and Evangelization
The idea resonated: Funerals as evangelization. I google it – funeral and evangelization. It appeared the concept had been around for six years in Canada, at least according to the google search. Father James Mallon presented a talk on the topic at the National Liturgy Conference in 2015. I noticed the search page, directing to a PDF on the Canadian Conference of Catholic Bishops (CCCB). Father Mallon is the renowned author of Divine Renovations: From a Maintenance to a Missional Parish.
There is also a PowerPoint Presentation on "Catholic Funerals as Moments of Evangelization" prepared by Susan Shefchuk for the General Assembly of the Clergy in 2014 on the website of the archdiocese of St. Boniface, Winnipeg, Canada. Also, check out a blog on Western Catholic Reporter on "Funeral can be time for evangelization" dating 2015.
Conversation with Father Emmanuel
I wanted to write about the topic. After a month, I followed up with Father Emmanuel – enquiring for details. That's before I did the google search. "It's a pastoral encounter between the Church (priest or presiding minister) and the family of the deceased," Father Emmanuel says. "Death unites everyone – connecting us back to faith."
"One day, one ritual, one homily has the power to unite – if well delivered."
The funeral liturgy is an excellent opportunity for evangelization. According to Father Emmanuel, "One day, one ritual, one homily has the power to unite – if well delivered." Apart from the liturgy, it is crucial how the priest shows his pastoral presence through hospitality towards the family of the deceased, and those gathered to offer condolences.
"In the presence of high dignitaries, chiefs of native communities, and government officials – it is privilege opportunity to champion the word of God," Father Emmanuel said. "In one day, you can give the whole summary of our faith."
Father Emmanuel affirms that liturgical prayers involve evangelical opportunities – of how connected we are as members of the body of Christ – even in death. "A good liturgy explains the resurrection of Jesus," Father Emmanuel told me.
As the Catholic Church finds itself a vulnerable minority, Father Emmanuel proposes pocket-size cards with Catholic information to be made available for first-timers, lapsed Catholic or curious inquiries. The cards should display: What we do as a parish? When are the masses held or other services offered? How can you become a Catholic? How can I come back to church?
"As a priest or the minister, our job is to accompany the people," Father Emmanuel notes, stressing the word – accompany. "Conversion happens with the grace of God."
Conversation with Father Bernard Akum SDV
I wanted to see pastoral realities, I decided to speak to Father Bernard. Father Bernard Akum, the episcopal vicar for indigenous people for AGM, emphasizes the rewards of death during a funeral service. "Death is not a loss or end of life," Father Bernard says. "There is another life in Christ – we are raised to new life, just like our baptism."
Father Bernard, the pastor of St. Bernard, Grouard, is also serving neighboring indigenous communities. Most funerals are held in the town hall to accommodate more people from other churches and indigenous communities.
"You cannot decide what you will become after death," Father Bernard says.  Father Bernard inspires hope by stating that we are all made in God's image and likeness. "God takes care of what happens to you after death."
End Notes on Funeral Celebrations
I agree that a priest should not compromise on the rich liturgical elements of a Catholic funeral and sacramental like incense, holy water, paschal candle, etc. I am told that some lapsed Catholics do return to the regular church services after a dearly departed death.
I also hear most people are fascinated by the magnificence of the liturgy – rich symbolism and active involvement. The congregation is drawn into divine grace of consolation. Sometimes, even explaining why we do what we do, without assuming everyone knows it, moves the assembly into a faith experience.
I liked what I read about eulogies. Funerals are not just an occasion for eulogizing the deceased – celebration of life. It is more about our hope in the resurrection – a life after death in our heavenly home.
As active Catholics, we do have a role. Well, evangelization is not an exclusive obligation of priests and nuns. As faithful followers, it an opportunity to share your faith experiences of Christ. When you share what God has done in your life, you are an active evangelizer of the Good News – a harbinger of hope. Evangelization is sharing your faith experience with others, even in moments like funerals.
Something for you …
Need funny and thought-provoking stories about priests, buy on amazon The Uncommon Priest: Incredible Stories You Never Read
Check out my spiritual videos on YouTube: Feroz Fernandes
ferozfernandes.com is a participant in the Amazon Services LLC Associates Program, an affiliate advertising program designed to provide a means for sites to earn advertising fees by advertising and linking to Amazon.com.