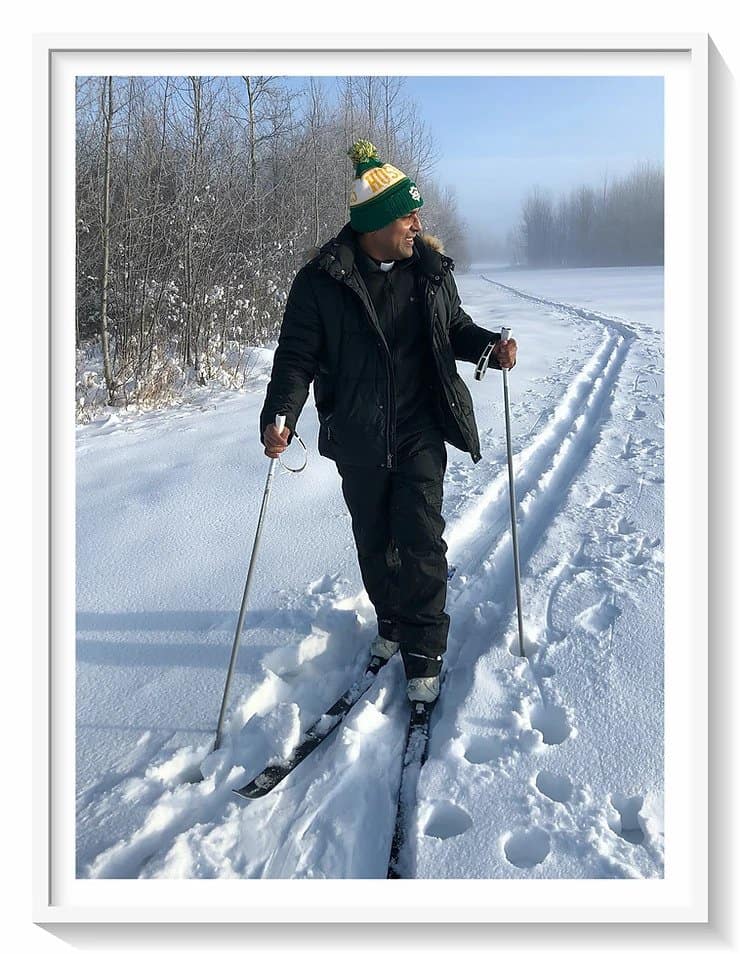 Shirley Connelly invited me to go out for cross country skiing. I drove past Figure Eight Lake on a snow-covered unpaved country road. The fog started to disappear as the sun beamed through the clouds. Still, road visibility allowed below 80kms per hour. I remained cautious. I heard excellent advice in Northern Canada: "You need to watch out for wild animals while on the road."
"Ski slowly, and fall many times," Norma Llewellyn says. I planned to go skiing after the mass at the Grimshaw Hospital. Norma volunteers to prepare the Long-Term Care residents for the service and singing session on Wednesdays.
"Do you have snow pants?" Norma asked. "Your pants will get wet when you fall on snow."
Shirley offered me to use a new snow pant. I get into the Ski shoes and winter gloves, hook the boots onto the pair of cross-country skis. I am ready to proceed with the poles, as the last line of defense.
Count nine, I am down in the snow. Once in the snow, standing is difficult to maneuver. The skis entangle, ankles twist and the poles wrangle around the hands. I freed the legs, placed theme skis parallel, and attempted to stand up. I did succeed after over a hundred seconds.
Shirley sliding into the trail, I followed.
"Just keep walking on the trail," Shirley told me. "You are doing great, and even you stood up on your own."
One secret of cross-country skiing: You have to push down to prepare to go forward. The uphill walk, downhill slide, and the turns need more caution with the skis hooked on the feet.
The coyotes started howling in the nearby bush.
I felt I got it, and I had my second fall. It was in the snow-covered field, maybe more than three feet snow. I took more time to stand up, almost two minutes.
Shirley stopped. She wrote and left marking the snow, remembering her nursing days skiing with colleagues.
"I tell people who are depressed or feeling low in winter, go skiing or snowshoeing," Shirley said. Snowshoeing is a form of hiking or walking on snow with footwear larger than a person's feet to avoid sinking in the snow.
Out in the country, it's heavenly. The sight of snow, fresh smell, wild sounds – the serenity draws you into the majesty of creation.
"Not bad," I had fifty minutes of skiing on day one.
I met Eddie, Shirley's husband, and Norma joined for lunch: smoked salmon soup.
Something for you …
Need funny and thought-provoking stories about priests, buy on amazon The Uncommon Priest: Incredible Stories You Never Read
Check out my spiritual videos on YouTube: Feroz Fernandes
ferozfernandes.com is a participant in the Amazon Services LLC Associates Program, an affiliate advertising program designed to provide a means for sites to earn advertising fees by advertising and linking to Amazon.com.