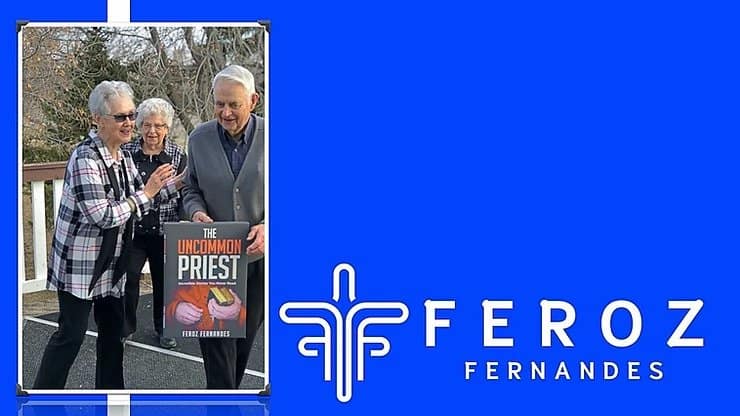 Time flies. A year ago, I published my book, The Uncommon Priest: Incredible Stories You Never Heard.
On the Sunday of April 28, 2019, I did a candid photoshoot for the launch of my first book.
I had requested Bill Mitchell, a former fighter pilot of the Royal Canadian Air Force, to release my first book to the parishioners of Holy Family Catholic Church Grimshaw, Alberta.
That beautiful morning, Bill and his wife Kay walked into the church as usual at 9:00 am. For over two decades, Bill and Kay come in for the Sunday service one hour ahead of time. Shirley Connelly volunteered to click the pictures.
The official released happened after the Sunday service that day.
Bill Mitchell, a retired Lieutenant Colonel, found that the stories make a connection between faith and people. "The Uncommon Priest reveals the dimension of the contemporary priesthood."
I do consider myself as a storyteller rather than an author. I share undocumented stories about the lives of priests – funny, controversial, and insightful. I feel blessed to have met over ninety percent of the priests mentioned in the book. I did change their names to protect personal identities. It's like baptizing the priests with a new story name.
Among surprise moments of gifting the book to friends, I was thrilled when a sixth-grader read the book in one sitting of less than an hour. As I chatted with his parents, the boy sat in a corner and kept reading, even when instructed to read it later.
"I never knew that priests had an interesting life," the boy told me with a smile.
Kirkus Reviews, an America's book review magazine, termed the book as "a diverting, eye-opening, but uneven look at the real lives of priests."
Kirkus notes that the real-life stories in the book bring out a "spectrum of emotions, dealing with whimsical, humorous details of priestly life."
Some have already identified the priests in the stories. Even with names changed, people know their priest. I do have a few stories about myself in the book – a few are popular. I kept contentious stories as remote from the actual person as possible.
You read it. You already know what it means to be a priest – the good, the bad, and the ugly happen.
What next? Yes, I keep writing. If you have humorous stories about priests, do let me know.
Read my blogs on random topics: fun igloo, polar bear jump, fasting without food or water
Yes, I am on YouTube. Watch my videos, subscribe, like, comment, and share with others.
Something for you …
Need funny and thought-provoking stories about priests, buy on amazon The Uncommon Priest: Incredible Stories You Never Read
Check out my spiritual videos on YouTube: Feroz Fernandes
ferozfernandes.com is a participant in the Amazon Services LLC Associates Program, an affiliate advertising program designed to provide a means for sites to earn advertising fees by advertising and linking to Amazon.com.