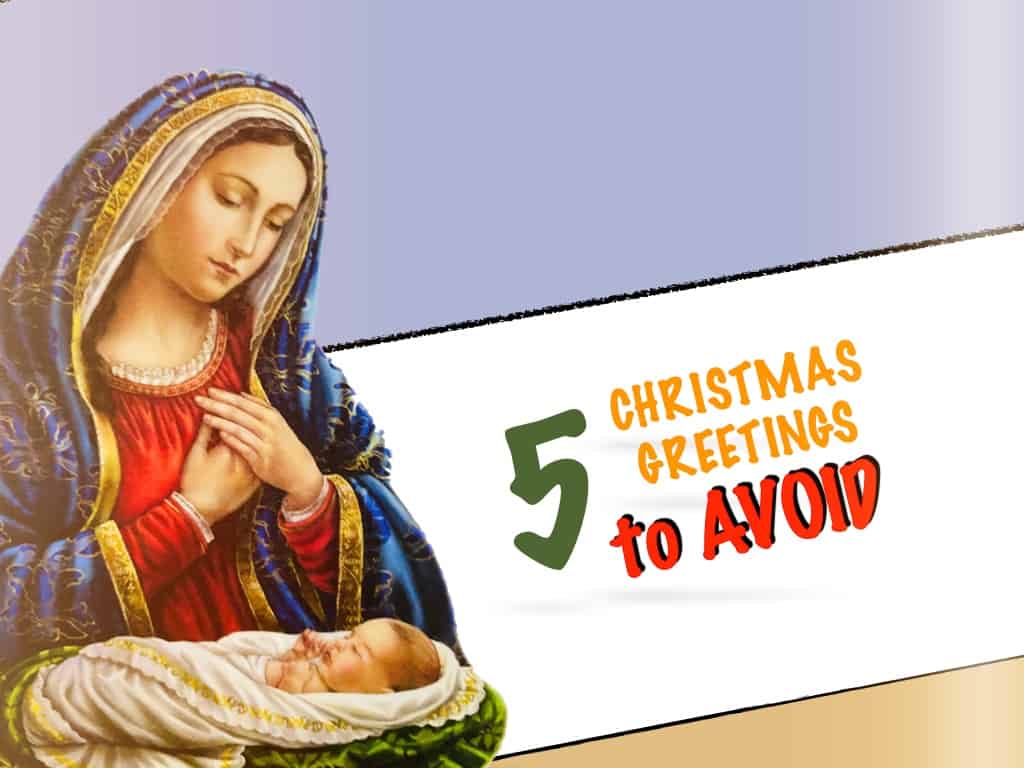 I read a forwarded message on the Priests' WhatsApp group of the Archdiocese of Goa and Daman. The message was from Father Victor Vijay Lobo (Sandesha), from the neighboring diocese of Mangalore in India. The message had a simple heading: Important information regarding Christmas.
Father Lobo urges Christians not to be blind imitators of those who misuse the words related to Christmas. The priest set out the message to "educate everyone about the true spirit of Christmas."
Based on Father Lobo's proposals, I worked on this blog to promote his message. Thanks to Father Lobo for sending this timely one and Father Joe A. Rodrigues from the Goa archdiocese for sharing with brother priests. I have added a few to the list.  You will have suggestions to contribute.  Feel free to express your thoughts and share your suggestions in the comments below.
1. Avoid "Seasons Greetings." It's a Christmas Season
Don't keep it neutral and say, "season's greetings" during Christmas. It sounds fancy and trendy. But people who promote it want to avoid taking the name of Christ. Christians should not hesitate to say, "Christmas Season." It is meaningless to say "Season's Greeting" as every season has a specific name.
2. Avoid "Happy Holiday."  It's Christmas Holidays
People want to be politically correct and greet one another saying: Happy Holidays or Winter Holidays. For Christians, the main reason for a joyful season is the solemnity of the birth of Jesus Christ amongst us. It is a time we are grateful for Emmanuel – God with us.  God does not send us on a holiday, by a mission.
3. Avoid "X'mass." It's Christmas.
It may have good intentions to shorten the word or make it artistic. "X" is an unknown mathematical term. Christians know that it is the nativity of Jesus Christ. Christians know Christ, so why use an unknown figure to express a known person?
4. Avoid Images of "Santa Claus." It's the story of Christ, not a charity event.
Christmas is about Christ, not Santa Claus. It is the birthday of Jesus Christ, not Santa. Santa Claus is associated with the commercial benefits of the Christmas season. Christians should avoid sending Christmas greeting cards with images of Santa Claus. Christians can send cards with a nativity scene with baby Jesus, Mary and Joseph.
5. Avoid "Compliments of the Season." Happy Christmas is a better one.
I know this is a hard one for many. Nowadays, people started using "Compliments of the Season" soon after December 25. Christians can wish Happy Christmas even beyond the feast of the Magi (Three Kings – though I like the title wise men better) until the Baptism of the Lord. That's the time people remove their Christmas decorations, outdoor Christmas stars, and the nativity scene from their homes.  You can always greet people by saying: Happy Christmas Season.
You have heard this one: Without Christ, there is no Christmas. People have intentions that may deviate the simple away from correctly expressing the mystery of Incarnation.  The words and greeting should express our belief in the name of Jesus Christ
About the Author
Feroz Fernandes, a Catholic Missionary, identifies himself as an Uncommon Priest. Father Feroz loves adventure in the apostolate. Check out his debut book The Uncommon Priest: Incredible Stories You Never Read on amazon. And also, the YouTube Channel: Feroz Fernandes promotes a better understanding of scripture.