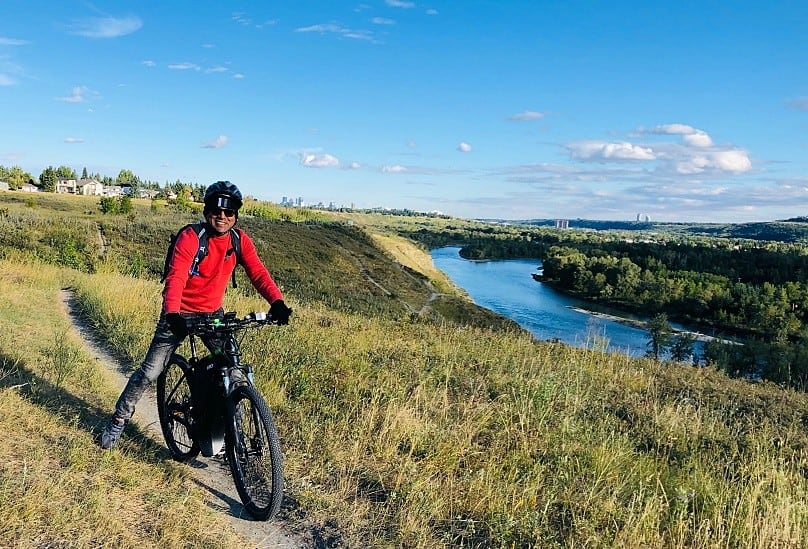 A gusty wind filled the morning – uncertainty reigned to engage in outdoor activities. The outdoor options were either boating or biking for two hours in the afternoon.
Avi, my friend priest from Calgary, invited me on this adventure. He mounted the battery-powered bicycle onto his Volkswagen SUV. We were to meet up with Ed, Avi's friend, at the Bowmount boat launch area.
Ed arrived with his e-bikes. "Hey, you got a lovely white car," said Ed noticing Avi's white-colored SUV. "Now, we should get you a white elephant."
Avi responded quickly, "really, are there white elephants?"
"Oh, we can paint one for you," Ed joked.
Outdoor adventure with a battery-powered bicycle
It was my first bicycle adventure with a mandatory helmet. With basic instruction, I was set to go. Besides, I had to stay warm to brave the chill breeze of an early September. I never expected to make almost 20 km biking on mount ranges and alongside Bow Mount River.
The recreational area provides a panoramic view of the river appearing almost green. There is plenty to explore while biking – the unpaved winding trails fascinated me. There are marked areas for cyclists and pedestrians to enjoy their outdoor experience.
Irrespective of traffic, we could bike on busy city roads. We did venture out with our bikes on busy streets, silent alleys, paved tracks, and unpaved trails. How can I not mention the uphill and downhill adventure? It's an adventure; either you walk uphill with the bike or be cautious on the downhill drive. The tailwind and headwind can be your uncertain companion.
Thrill and Dangers of Throttle. Speed.
Avi warned me about the throttle. The electric bike throttle can take the first-time biker with surprise. A feather touch push on the throttle can lead to incredible speed, posing a danger to the biker, the bike, and those around. The throttle works like a hand-operated accelerator for the cycle.
Occasionally, we stopped to take a break and enjoy viewpoints. Avi instructed switching off the bike to avoid hazards caused by accidentally touching the throttle. Yes, switching off the bike also saves battery power.
The cycle with the throttle can speed up to 70 km per hour. I did attempt to hit a reasonable 51 km/hour with my speed experiments. But I was cautious to avoid a bicycle-related accident. Because I heard stories of bike accidents due to speed. It's tempting to try new speed levels, creating a window for a crash.
Once a crash happens, the biker turns cautious about restarting biking again. As the fear disappears, speed kicks in again – a new adventure.
"It's fun to be outdoors," said Ed. "It puts a smile on your face."
Something for you …
Need funny and thought-provoking stories about priests, buy on amazon The Uncommon Priest: Incredible Stories You Never Read
Check out my spiritual videos on YouTube: Feroz Fernandes
ferozfernandes.com is a participant in the Amazon Services LLC Associates Program, an affiliate advertising program designed to provide a means for sites to earn advertising fees by advertising and linking to Amazon.com.