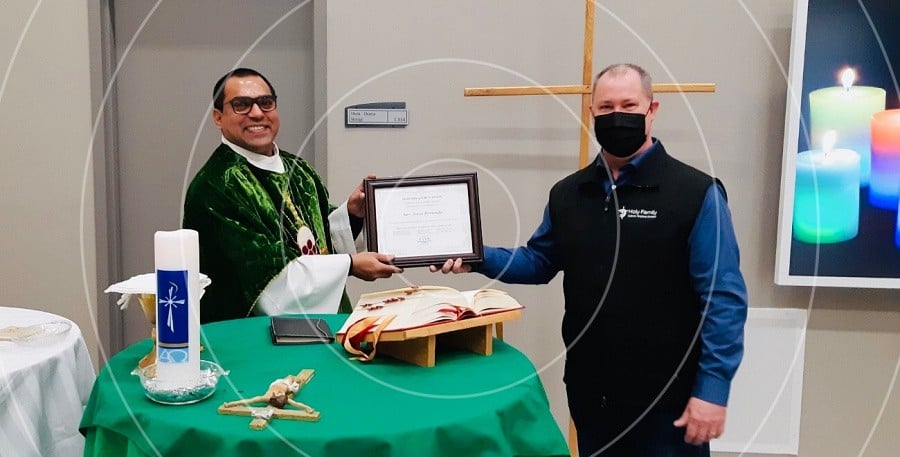 Alberta School Boards Association (ASBA) recognizes local parish priests' notable contribution to education in the Holy Family Catholic Regional Division (HFCRD). ASBA (Zone 1) awards the 2020 Friends of Education certificate of appreciation to six parish priests. The award recognizes an outstanding contribution to education in Alberta. 
"The board (HFCRD) chose to nominate local parish priests in recognition of the time devoted in supporting students and staff in their faith journeys," writes Kelly Whalen, Board Chair of HFCRD, informing each pastor about the award. 
HFCRD's Friends of Education Awardees:
Rev. Nel Esquerra, Our Lady of Peace Parish, Peace River

Rev. Feroz Fernandes, Holy Family Parish, Grimshaw

Rev. Eucharius Ndzefemiti, Cathedral St. Jean Baptiste, McLennan

Rev. Lawrence Odoemena, St. Paul's Parish, High Prairie

Rev. Michael Uso Ereyi, St. Rita's Parish Valleyview

Rev. Hansel Nwachukwauji, St. James the Major Parish, Manning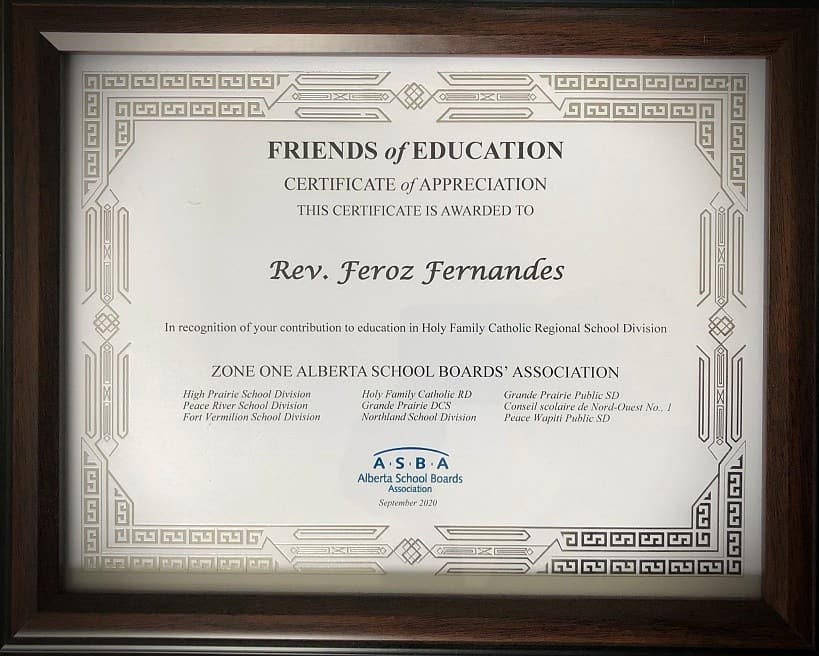 The nomination notes assert that the award acknowledges parish priests as vital to ensure that Catholic faith is permeated throughout the schools. The parish priests celebrate sacraments (monthly masses and reconciliation) and are present during the school's social events. The parish priests help in developing a deeper spirituality through catechesis and interactions with students and staff. 
Due to the restriction on gathering, HFCRD gave the awards either in a parish or school setting. Usually, the ASBA Zone 1 would have a luncheon to host the award recipients and present the awards.
All the awardee parish priests are working in the Archdiocese of Grouard-McLennan.
What Priests Say About the Award
"It good to be appreciated … our contribution recognized," says Father Nel. "The pastor is doing something to better the community." John Kuran, the HFCRD board Trustee Peace River/Nampa, presented the award to Father Nel Esquerra during a Parish Pastoral Council Meeting in October. 
"It is recognition to the dedication of all parish priests who have served in the school division for last many years," Father Feroz says. "We (the priests and schools) work together to proclaim the faith." Brian Hill, HFCRD Vice- Chair and board trustee, presented the award to Father Feroz Fernandes during a school staff commissioning mass on November 23. 
Father Eucharius notes that awards like this "improve our zeal to give more in the spirit of community." Gary Fisher, the HFCRD Trustee McLennan, gave the award to Father Eucharius Ndzefemiti during school staff commission mass on November 8. 
Father Lawrence Odoemena feels encouraged to do more. "I wish to engage more with the staff and students even with the given limitations of covid."
"I am just doing my job," Father Michael says. "And a group of people appreciating it gives me the (added) energy to do more." Father Michael feels that no matter how small the effort, it is being recognized. John Michael Pozniak, the HFCRD trustee Valleyview, offered the award to Father Michael Uso Ereyi in October.
"Keep the faith alive," Father Hansel said. "Our efforts in faith education help society." Margaret Michaud, the HFCRD trustee Manning/Fort Vermilion, offered the award to Father Hansel Nwachukwauji during a school staff commission mass on November 23.
Zone One Alberta School Board Association includes six school divisions: High Prairie School Division (SD), Peace River SD, Fort Vermilion SD, Holy Family Catholic Regional Division, Grande Prairie DCS, Northland SD, Grande Prairie Public SD, Conseil scolaire de Nord-Quest No. 1, and Peace Wapiti Public SD.
Something for you …
Need funny and thought-provoking stories about priests, buy on amazon The Uncommon Priest: Incredible Stories You Never Read
Check out my spiritual videos on YouTube: Feroz Fernandes
ferozfernandes.com is a participant in the Amazon Services LLC Associates Program, an affiliate advertising program designed to provide a means for sites to earn advertising fees by advertising and linking to Amazon.com.