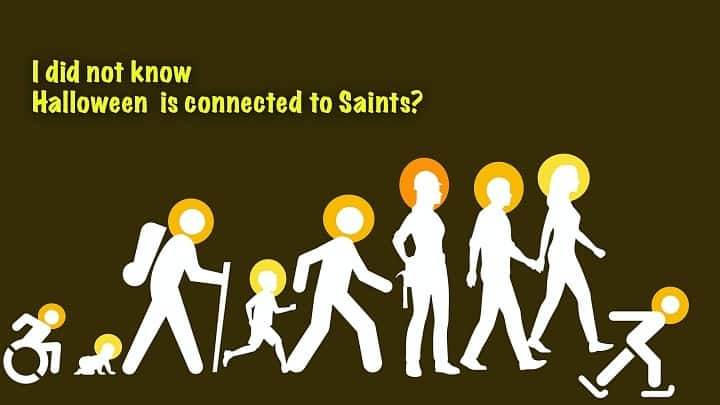 I set out to offer a reflection and a plan of action to keep the spirit of Christianity aglow amid the Halloween celebration. I am not anti-Halloween. And I don't have to be a data analyst to say: Halloween is growing exponentially as a commercial holiday. Nor am I a media critic. But I do observe that the mainstream media is neglecting the connection between Halloween and Roman Catholicism. I would rather be a promoter of good news with real significance to Christian living. Let's be pragmatic. I offer three amazing Catholic ways to celebrate Halloween.
Three Amazing Catholic ways to celebrate Halloween
It's an Opportunity to Learn about Real Catholic Halloween
Halloween is an overused word in October; even the Search Engine Optimization (SEO) love it. But what's behind the word 'Halloween.' Halloween is a holy evening before "All Hallows" day, which Catholics commonly call All Saints Day (November 1). All Saints day celebrate holy men and women in heaven. It also acknowledges all holy people, who may not be officially declared saints but nevertheless are considered saints in heaven. It's a day to recognize all the saints – persons with a divine hallow- a special grace bestowed by God. A Catholic Halloween is about holy people and holiness.
Share the Real Catholic significance of Halloween
Add a bit of Catholic history to the mix. Pope Gregory III established the feast to honor All Saints in the 8th century.  But Gregory IV made the feast universal with a holy day of obligation for all Catholics in the 12th century. October 31 became the vigil to celebrate the feast of All Hallows. Today, the famous word "Halloween" is All Hallow's Eve or eve of All Saints Day. Historians will tie some ceremonies associated with the celebration of Halloween to pre-Christian customs. But it's a moment to catechize, to keep the focus on proclaiming Christ and call people to live in holiness.
Spread Spiritual Acts of Mercy during Halloween
Halloween, seen in the Christian spirit, is modeling holy behavior – spreading hallow around us. It's an evening to honor the saints or holy people. I would suggest essential Christian discipline: do penance, go for confession, pray for a good death, and read spiritually nourishing literature. It is contrary to the secular practice of Halloween celebration with costumes and candy – watching horror movies. For a Christian, the costume is holiness, candies are graces from God and honor is in the call to be a saint. Saints serve others, and Halloween is a reminder to spread acts of kindness and mercy. Trick or Treat should lead us to magnify generous actions towards others – those in need, not just those known to us.
A few words of Reflection
It's time to discover the Catholic meaning of Halloween. It will stop you from glorifying evil with costumes and decoration. Halloween is not a day to recreate evil in a Hollywood style. But understanding the Catholic significance of Halloween will create a hollow in the belief about the magical powers of the unreal evil heroes from the movies. Discover the Catholic meaning and it will lead you into the mystery of Christ's death and resurrection – a hope the saints bear witness in the world.
Halloween, as celebrated in our times, border on occult practices. Pope Francis and Pope Benedict dampen the spirit of popular Halloween as it promotes the culture of death, attacks the sacred and spiritual values of holiness.
I encourage you to read, engage in discussion, and evangelize to spread holiness that conquers all evil, sows hope, and ensures a victory of love.
Write your comments (below) on amazing Catholic ways to celebrate Halloween.
Something for you …
Need funny and thought-provoking stories about priests, buy on amazon The Uncommon Priest: Incredible Stories You Never Read
Check out my spiritual videos on YouTube: Feroz Fernandes
ferozfernandes.com is a participant in the Amazon Services LLC Associates Program, an affiliate advertising program designed to provide a means for sites to earn advertising fees by advertising and linking to Amazon.com.